99% pure aluminium foil 0.05 thickness
Qty




Price (Excl.VAT)




Price (Incl.VAT)

5+

£56.99

£47.49

save

5

%
10+

£53.99

£44.99

save

10

%
25+

£50.99

£42.49

save

15

%
Our aluminium Foil is manufactured using soft aluminium. Sold in 5kg rolls.
Weight: 5kg
Thickenss: 0.05mm
Width: 610mm
Length: Approx 60 metres
This product can be supplied in various widths and thicknesses (may require longer lead times).
This foil is made from 99% pure aluminium with no barriers.
The durability, weather ability, resistance to water vapour and vapour transmission make it ideal for a range of applications including :
Refrigeration
Insulation: Vapour barrier
Construction
Packaging: Foods and pharmaceutical packaging as it can act as a barrier for heat and light
We currently stock aluminium foil in 5kg rolls with a thickness of 0.05mm and a width of 610mm which works out to approximately 60 metres in length.
Safety:
There are no known health risks in handling Aluminium, although it is recommended that gloves should be worn in case of sharp edges. Good lifting practice techniques should always be followed when handling these products.
No resources currently available
Delivery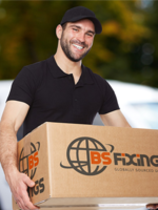 Free delivery
We offer free delivery for all orders over £50 (ex VAT). (UK Mainland Only).
Standard Delivery
Is offered to UK mainland customers. You will receive an email where you can confirm the delivery price if you are happy with it. Different package weights will have different prices.
International Delivery
We deliver all across the globe using a highly trustworthy courier. At the checkout stage, select the country that you would like the goods to be delivered.Then you will receive an email where you can confirm the delivery price if you are happy with it. Different countries will have different lead times and prices.
Delivery Charges
Below is the standard tariff for guidance purposes. Actual costs will be confirmed at point of sale and any variances you will be notified within 24 working hours of receipt of order.
The deliveries below are for mainland UK, for Highlands, Channel and offshore islands an extra charge per consignment will be applied as below, we can also arrange Saturday delivery at extra cost.
Next day delivery for orders under £50 (ex VAT) – £5