GP200 Multi-Purpose Silicone - Box of 25
SKU
P- BONDGP200TBXO00000
GP200 Multi-Purpose Silicone - Box of 25
Sold in boxes of 25 tubes. A low modulus, multi-purpose silicone rubber sealant. Various colours available.
GP200 Multi-Purpose Silicone. Sold in boxes of 25 tubes. 
A multipurpose, low modulus silicone rubber sealant with fungicide, suitable for most sealing
jobs around the home. Conforms to BS EN 156511,3: 2012. 
This product is ideal for the following applications:
Kitchen work tops
Bathrooms/ Showers
Utility rooms
General DIY applications 
Car, Boat, Caravan, House 
Specification Summary:
Tooling Time
5 - 10 minutes
Tack Free Time
Less than 30 minutes
Cure Time
1 - 2mm per day
Application Temperature
+5 to + 30°C
Service Temperature
-40 to + 100°C
Movement Accomodation
20%
Adhesion
Good to glass, painted surfaces and
most common building materials
UV Resistance
Excellent
Ozone Resistance
Excellent
For more information about the product please see the data sheet located below the product image. 
This product is also available sold each. 
If you would like more information about this product please don't hesitate to
get in touch
with our specialist team. 
Delivery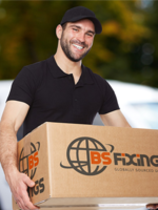 Free delivery
We offer free delivery for all orders over £50 (ex VAT). (UK Mainland Only).
Standard Delivery
Is offered to UK mainland customers. You will receive an email where you can confirm the delivery price if you are happy with it. Different package weights will have different prices.
International Delivery
We deliver all across the globe using a highly trustworthy courier. At the checkout stage, select the country that you would like the goods to be delivered.Then you will receive an email where you can confirm the delivery price if you are happy with it. Different countries will have different lead times and prices.
Delivery Charges
Below is the standard tariff for guidance purposes. Actual costs will be confirmed at point of sale and any variances you will be notified within 24 working hours of receipt of order.
The deliveries below are for mainland UK, for Highlands, Channel and offshore islands an extra charge per consignment will be applied as below, we can also arrange Saturday delivery at extra cost.
Next day delivery for orders under £50 (ex VAT) – £5