JSP Blue EVO2 Vented Slip Ratchet Helmet
Currently available on a 2 - 3 day lead time
EVO2Vented, Standard Peak, One Touch Slip Ratchet; 3D Adjustment System (EN397; ANSI/ISEA Z89.1 Type 1)
This product features a traditional 6-point polyethylene harness and One Touch Slip ratchet. It offers the most economical top level protection.
This product conforms to EN397 and US ANSI/ISEA Z89.1 Type 1 standard required and provides optimum performance.
Tough HDPE shell.
Chamlon Sweatband: The sweatband is made from Egyptian cotton core. This has a porous PU coating for maximum sweat absorption. PH neutral and dermatologically tested.
Never before has such a precise fit been attainable on an industrial safety helmet, using the unique 1-2-3 point harness depth settings.
Electrical Insulation Meets the EN 50365 Class 0 10KV standard. This standard is applicable to electrically insulated helmets used for working live or close to live parts on installations not exceeding 1000Vac or 1500Vdc.
The EVO2 safety helmet meets ANSI/ISEA Z89.1 Type 1 Class E Universal Slots Enables firm fitting of a range of Surefit safety visors and ear defenders.
This product is also available in Blue and Yellow. Please find products below.
A micro-peak version is available on request.
No resources currently available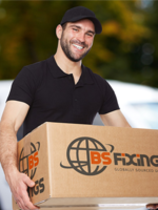 Free delivery
We offer free delivery for all orders over £50 (ex VAT). (UK Mainland Only).
Standard Delivery
Is offered to UK mainland customers. You will receive an email where you can confirm the delivery price if you are happy with it. Different package weights will have different prices.
International Delivery
We deliver all across the globe using a highly trustworthy courier. At the checkout stage, select the country that you would like the goods to be delivered.Then you will receive an email where you can confirm the delivery price if you are happy with it. Different countries will have different lead times and prices.
Delivery Charges
Below is the standard tariff for guidance purposes. Actual costs will be confirmed at point of sale and any variances you will be notified within 24 working hours of receipt of order.
The deliveries below are for mainland UK, for Highlands, Channel and offshore islands an extra charge per consignment will be applied as below, we can also arrange Saturday delivery at extra cost.
Next day delivery for orders under £50 (ex VAT) – £5