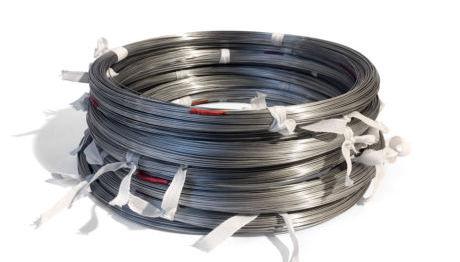 Don't even get us started about the weather. We don't know if we're hot cold, both or neither. Ditto for wet/dry. It's a good job stainless steel keeps functioning whatever the weather and temperature or the world would be a very different place.
So we won't advise you to get out doing some garden jobs while it's sunny. Because it will rain. And we won't tell you to get out in the garden in the rain and start repairs before they get worse, stoically ignoring the rain. Because then it will just be uncomfortably humid. We will just do what we do best and provide you with quality materials, leaving the forecasting to the 'experts'.
An indispensable component to have around the garden is tying wire and we have got literally miles of it available. Every last centimetre is guaranteed to be of the same exemplary professional quality as the last, right to the end of the reel.
Galvanised – ideal for all tying and lacing jobs, this tough and responsive galvanised steel tying wire is guaranteed to combine impeccable strength with maximum flexibility to deliver a consistent, durable result. Sold in 0.5kg coils, our galvanised tying wire is perfect for any home garden
Stainless Steel – providing a high level of aesthetic beauty, stainless steel tying wire is particularly popular with artists, sculptors and creative landscape gardeners. Both 304 and 316 grades are available to suit the intended environment and can be supplied on standard 1kg coils or on 20kg coils for larger projects.
 Now if only someone could use our products to invent a weather-machine….