Self Adhesive Insulation Hangers 165mm - Aluminium - Box of 250
Self Adhesive Insulation Hangers 165mm - Aluminium - Box of 250
Insulation Hangers with self adhesive base. Aluminium Pin, Galvanised Base. 165mm Pin.
Insulation Hangers, also known as insulation pins, with a self-adhesive base. Pin size 165mm. 
Sold in boxes of 250.
165mm pin 
Supplied with 250 self-locking retaining washers 
High quality 
Materials
Base = Galvanised steel 
Pin = Aluminium
The self-adhesive base is usually used in situations where the pins are attaching to metal, for example, a smooth metal wall. If the pins are being attached to other surfaces such as plasterboard, brick or stone then a perforated base is usually used. You can find the pins with a perforated base here. 
Also available in stainless steel upon request - We supply both self-adhesive and perforated base hangers in stainless steel 304 and 316 grade. Lengths start at 19 mm and go up to 410 mm. If you would like more information about prices and sizes please get in touch by clicking here. 
This product is also supplied in sizes 62mm, 90mm, 110mm and 203mm. 
For help installing this product you can click here to view our step by step guide, or alternatively, you can find a "How to" guide in the "Product Attachments" section. 
Lead time for this product is currently 2 - 3 days.
Delivery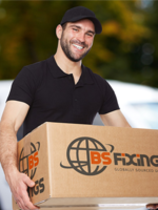 Free delivery
We offer free delivery for all orders over £50 (ex VAT). (UK Mainland Only).
Standard Delivery
Is offered to UK mainland customers. You will receive an email where you can confirm the delivery price if you are happy with it. Different package weights will have different prices.
International Delivery
We deliver all across the globe using a highly trustworthy courier. At the checkout stage, select the country that you would like the goods to be delivered.Then you will receive an email where you can confirm the delivery price if you are happy with it. Different countries will have different lead times and prices.
Delivery Charges
Below is the standard tariff for guidance purposes. Actual costs will be confirmed at point of sale and any variances you will be notified within 24 working hours of receipt of order.
The deliveries below are for mainland UK, for Highlands, Channel and offshore islands an extra charge per consignment will be applied as below, we can also arrange Saturday delivery at extra cost.
Next day delivery for orders under £50 (ex VAT) – £5