Ultimate Grab Adhesive 290ml
Ultimate Grab Adhesive 290ml
This HB42 product is an 'All-in-One' Sealant & Adhesive. Seals, Sticks & Fills. 290ml
Regular Price
£10.03
£8.36
Special Price
£9.02
£7.52
Ultimate Grab Adhesive. 290ml Cartridge. 
A complete, all purpose, fixing solution.  This HB42 product is an All-in-One Sealant & Adhesive. Seals, Sticks & Fills. Based on the new generation of advanced hybrid polymer technology for outstanding adhesion and strength. HB42 can be used inside and outdoors, from sealing bathrooms to guttering. Unlike other sealants and adhesives, HB42 is odourless, food safe and has been GEV approved, recognised for its very low emissions. HB42 Super Grab The Ultimate answer to fixing has an initial bond strength double that of most other grab adhesives, will bond to most substrates and will even bond in the wet.
Bond strength almost double other grab adhesives
Instant Grab
Interior & Exterior
Works in wet (even underwater)
Durable
Weatherproof
Solvent free
Bonds to almost anything (incl. lead)
Odourless
EC1 Plus rated, very low VOCs.
Available on a 2-3 days lead time.
No resources currently available
Delivery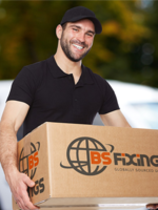 Free delivery
We offer free delivery for all orders over £50 (ex VAT). (UK Mainland Only).
Standard Delivery
Is offered to UK mainland customers. You will receive an email where you can confirm the delivery price if you are happy with it. Different package weights will have different prices.
International Delivery
We deliver all across the globe using a highly trustworthy courier. At the checkout stage, select the country that you would like the goods to be delivered.Then you will receive an email where you can confirm the delivery price if you are happy with it. Different countries will have different lead times and prices.
Delivery Charges
Below is the standard tariff for guidance purposes. Actual costs will be confirmed at point of sale and any variances you will be notified within 24 working hours of receipt of order.
The deliveries below are for mainland UK, for Highlands, Channel and offshore islands an extra charge per consignment will be applied as below, we can also arrange Saturday delivery at extra cost.
Next day delivery for orders under £50 (ex VAT) – £5