A2 Slotted Hex Head SUPER Self-Tapping Screw (EPDM Washer)
A2 Slotted Hex Head SUPER Self-Tapping Screw (EPDM Washer)
Goebel SUPER screws are designed to be much harder than the ordinary screw. This means that the screw can firstly tap the material easily, shape the thread of the screw and fasten the pre-drilled sheet in a single step. These specialist screws are both rust and acid resistant and include a rolled out thread.
The EPDM washer posses a high resistance to wear and tear, weathering and heat. Furthermore, they are also protected from hot water, steam and detergents. These washers ensure a secure fastening and sustainably improve the strength and stability when the screw is in place.
This screw is manufactured using the highest quality grade 304 stainless steel therefore is more resistant to corrosion and staining than carbon steel.
Only a slotted head screwdriver can be used with this type of screw due to it's slotted head type. The slotted head type is not suitable for high torque transfers in that the force is applied to the diagonally opposite outer edges of the slotted head.
No resources currently available
Delivery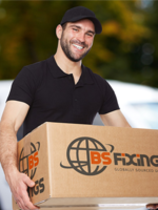 Free delivery
We offer free delivery for all orders over £50 (ex VAT). (UK Mainland Only).
Standard Delivery
Is offered to UK mainland customers. You will receive an email where you can confirm the delivery price if you are happy with it. Different package weights will have different prices.
International Delivery
We deliver all across the globe using a highly trustworthy courier. At the checkout stage, select the country that you would like the goods to be delivered.Then you will receive an email where you can confirm the delivery price if you are happy with it. Different countries will have different lead times and prices.
Delivery Charges
Below is the standard tariff for guidance purposes. Actual costs will be confirmed at point of sale and any variances you will be notified within 24 working hours of receipt of order.
The deliveries below are for mainland UK, for Highlands, Channel and offshore islands an extra charge per consignment will be applied as below, we can also arrange Saturday delivery at extra cost.
Next day delivery for orders under £50 (ex VAT) – £5