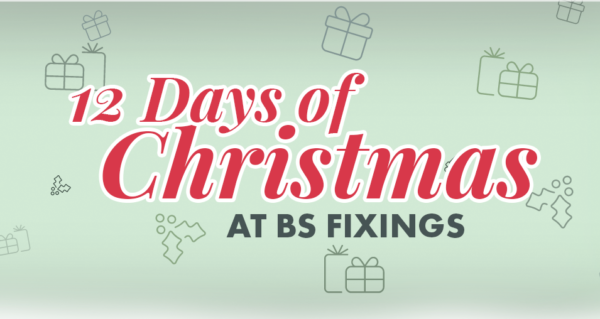 Right. If you weren't feeling Christmassy already, you better be feeling it now. Our latest promotion will make sure of it.
We've barely got Black Friday and Cyber Monday out of the way, and we're already launching headfirst into our festive deals and discounts.
The Christmas promotion will run from the 1st to the 12th of December. By our calculations, that makes it 3 full weeks of fantastic deals, offers, and discounts from BS fixings, starting on Monday 22nd November 2021 with our Black Friday deals, through to the last day of our latest promotion.
Welcome, to the 12 Days of Christmas with BS Fixings.
We were going with a Jurrasic Park kind of vibe with that last headline by the way... anyway...
As the name suggests, each day for 12 days we're going to be putting on a new offer for that day only. That means you could be landing yourselves with some great deals on everything from wall ties to wallpaper brushes. Amongst the offers, you'll also find some other festive ways to grab yourselves some discount. We don't want to give it away, because that's no fun, but if you visit our website on any day, make sure it's the 1st.
If you want to keep tabs on which offer is on each day, you've got a few options. Firstly, we're going to be sending our emails each day for 12 days, letting you know what the offer is. You'll need to join our VIP Club to receive these (You'll even receive a discount code for 10% off when you join. My word that's a good deal). Or, if you hate receiving emails with discount codes in, you can follow us on social media. Here's our Twitter, Facebook, and LinkedIn. Lastly, you can visit our website each day, and the deal for that day will be on the homepage.
The original (less exciting) 12 Days of Christmas
The 12 days of Christmas is the period in Christian theology that marks the span between the birth of Christ and the coming of the Magi, the three wise men. It begins on 25th December (Christmas) and runs through to the 6th of January. The four weeks preceding Christmas are collectively known as Advent, which begins four Sundays before Christmas and ends on the 24th of December.
We know that it's not truly accurate to link the 1st - 12th of December with the true religious 12 days of Christmas, but we hope our customers will forgive us and provide us with poetic license to expand our seasonal goodwill. You'll be getting discounts, after all, so stop complaining!
Keep your eyes out next Wednesday for the first deal in our 12 days of Christmas promotion!