Cavity Screw Ties by Bluebird - Box of 10
Cavity Screw Ties by Bluebird - Box of 10
Stainless steel cavity wall ties manufactured by Bluebird Fixings. Sold in boxes of 10. The sizes options to choose from are the cavity sizes
Stainless steel cavity screw ties (wall ties) manufactured by Bluebird Fixings. 
Sold in boxes of 10.
Supplied with both the insulation clips and the wall plug.
The sizes options to choose from are the cavity sizes, so the overall dimensions of the screw tie will be longer. Please see the size guide below showing the cavity width size and the overall dimension of the tie. 
Extra Information:
For forming internal or external leaf to single skin buildings.
Quick and easy to use, no special tools or skills required.
Suitable for use on brick, stone block and timber-framed buildings.
Austenitic Stainless Steel (BS 1449 Pt. 2 1983).
Plugs and insulation retaining clips provided.
Allow 5 ties per square metre
Size guide
| | | |
| --- | --- | --- |
| Size (to choose from option menu)  | Cavity Width | Overall Dimension (millimetre & Inches) |
| 50-75mm | Suitable for 50mm & 75mm cavity | 200mm 8" |
| 100mm | Suitable for 100mm cavity | 220mm 8.75" |
| 120mm | Suitable for 120mm cavity | 240mm 9.5" |
| 130mm | Suitable for 130mm cavity | 250mm 10" |
| 140mm | Suitable for 140mm cavity | 260mm 10.25" |
| 160mm | Suitable for 160mm cavity | 280mm 11" |
| 180mm | Suitable for 180mm cavity  | 300mm 11.75" |
| 190mm | Suitable for 190mm cavity | 305mm 12" |
| 200mm  | Suitable for 200mm cavity | 320mm 12.5" |
| 230mm  | Suitable for 230mm cavity | 350mm 13.75" |
| 240mm | Suitable for 240mm cavity | 370mm 14.5" |
| 260mm | Suitable for 260mm cavity | 380mm 15" |
| 280mm | Suitable for 280mm cavity | 400mm 16" |
Installation notes
Existing walls should be sound and free from major defects. Drill into the existing wall at an angle 45mm deep (5 ties per metre squared). Insert plug and screw tie in fully, bend up or down to suit new work, bedding ties into mortar joints. Lay bricks, blocks or stone in the normal way.
For more information on this product, including installation, please get in touch with one of our specialist team by clicking here.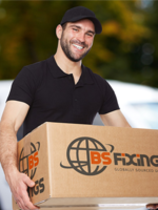 Free delivery
We offer free delivery for all orders over £50 (ex VAT). (UK Mainland Only).
Standard Delivery
Is offered to UK mainland customers. You will receive an email where you can confirm the delivery price if you are happy with it. Different package weights will have different prices.
International Delivery
We deliver all across the globe using a highly trustworthy courier. At the checkout stage, select the country that you would like the goods to be delivered.Then you will receive an email where you can confirm the delivery price if you are happy with it. Different countries will have different lead times and prices.
Delivery Charges
Below is the standard tariff for guidance purposes. Actual costs will be confirmed at point of sale and any variances you will be notified within 24 working hours of receipt of order.
The deliveries below are for mainland UK, for Highlands, Channel and offshore islands an extra charge per consignment will be applied as below, we can also arrange Saturday delivery at extra cost.
Next day delivery for orders under £50 (ex VAT) – £5