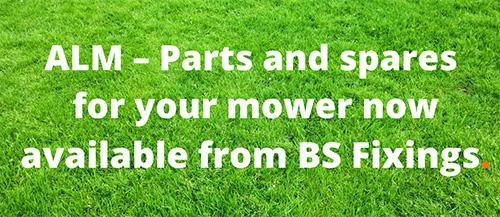 We have received a number of requests to sell ALM lawnmower spares and add them to our website following difficulties for DIYers and small companies to buy them direct elsewhere. Through BS fixings, you don't have to be an established company, have a trade account, or indeed purchase a minimum number of items, so we believe that BS fixings is the best place to visit for ALM mower spares if you are a DIYer or small business.
It is currently only a small range, but if sales go well this will be reviewed, with potentially more lines added to our website in the near future.
Until this point, if you have anything specific that you need to fix your mower, please get in touch by e-mail, providing as much information as you can, a part number or picture and we will get the part for you. Please e-mail INFO@BSFIXINGS.CO.UK with your enquiry.
Currently, we have in stock ALM Green Trimmer Line which is manufactured to the highest possible specifications, for ultimate performance and longevity and is suitable for all models of trimmers from all manufacturers. ALM White Trimmer Line, ALM Plastic Trimmer Blades are designed to fit Qualcast & Bosch and ALM Metal Lawnmower Blades are suitable for the following 32cm lawnmowers: YT5120-01 compares to R8231-522511, MLMP1200, RM32 M2E1032M and RM32 M2E1032M.