A2/A4 Stainless Steel Toggle
A2/A4 Stainless Steel Toggle
Stainless steel toggle and latch - Pack of 2
Stainless Steel Toggles. Sold in bags of 2.
BS Fixings supply stainless steel toggles and latches for use in a wide variety of applications. Guaranteed to provide strength and security, our toggles and latches are manufactured to the highest quality specifications and are supplied to our worldwide customer base.
Stainless steel toggle and latch - this small light to medium duty toggle also referred to as 1", F2 or B2 . Manufactured from high quality stainless steel made in the UK, the stainless steel toggle is supplied with a latch and can be used in a variety of applications. They can be quickly released and easy to fix.
BS Fixings supply latches and toggles in several materials to ensure the perfect choice is made; these choices include aluminium and zinc-plated mild steel. Standard sizes of 1" and 2" are available from stock but our experienced team are also able to provide alternative sizes and varieties, including locking and quick-release toggles. Available in 304 (A2), our are supplied to meet all European standards and are typically ASTM A167/A240.
No resources currently available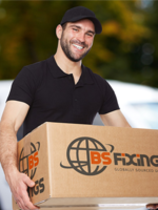 Free delivery
We offer free delivery for all orders over £50 (ex VAT). (UK Mainland Only).
Standard Delivery
Is offered to UK mainland customers. You will receive an email where you can confirm the delivery price if you are happy with it. Different package weights will have different prices.
International Delivery
We deliver all across the globe using a highly trustworthy courier. At the checkout stage, select the country that you would like the goods to be delivered.Then you will receive an email where you can confirm the delivery price if you are happy with it. Different countries will have different lead times and prices.
Delivery Charges
Below is the standard tariff for guidance purposes. Actual costs will be confirmed at point of sale and any variances you will be notified within 24 working hours of receipt of order.
The deliveries below are for mainland UK, for Highlands, Channel and offshore islands an extra charge per consignment will be applied as below, we can also arrange Saturday delivery at extra cost.
Next day delivery for orders under £50 (ex VAT) – £5