Bandfix® Stainless Steel Banding 20kg coils
Bandfix® Stainless Steel Banding 20kg coils
SafeEdge banding in 20kg coil.
Grade 304.
Available in 19mm or 13mm
Free UK Delivery 
Bandfix® Stainless Steel Banding 20kg coils
20 kg coils
Supplied with a Safe Edge
Thickness 0.5mm – 0.6mm
Finish: 2B
Processed in house (UK)
Bandfix® SafeEdge Band

Product
Material
Width
Thickness
Average Breaking Strength (Lbs.)
Package Quantity
Weight Approx.
In.
(mm)
In.
(mm)
Lbs.
Kg
1/2"
SS 304
1/2
12.7
0.022
0.55
600
Approx. 350m
44
20
3/4"
SS 304
3/4
19
0.022
0.55
900
Approx. 240m
44
20
Our stainless steel banding is the perfect solution for many applications including bundling of cables and hoses, insulation or for strapping. It is good for clamping and gives you the flexibility of being able to cut on-site to your exact length elevating waste. The combination of lightweight easy to handle individually boxed coils along with the flexibility and economies it gives you represents great value.
We are a UK manufacturer of this product and you can buy from us directly, saving you money and ensuring a high-quality product with fast efficient service. All Bandfix®  band products are supplied with a safe edge and packaged in an individual handy carry cardboard box. You can view our manufacturing process in the video below. 
No resources currently available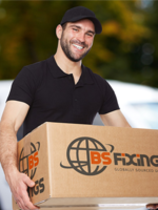 Free delivery
We offer free delivery for all orders over £50 (ex VAT). (UK Mainland Only).
Standard Delivery
Is offered to UK mainland customers. You will receive an email where you can confirm the delivery price if you are happy with it. Different package weights will have different prices.
International Delivery
We deliver all across the globe using a highly trustworthy courier. At the checkout stage, select the country that you would like the goods to be delivered.Then you will receive an email where you can confirm the delivery price if you are happy with it. Different countries will have different lead times and prices.
Delivery Charges
Below is the standard tariff for guidance purposes. Actual costs will be confirmed at point of sale and any variances you will be notified within 24 working hours of receipt of order.
The deliveries below are for mainland UK, for Highlands, Channel and offshore islands an extra charge per consignment will be applied as below, we can also arrange Saturday delivery at extra cost.
Next day delivery for orders under £50 (ex VAT) – £5