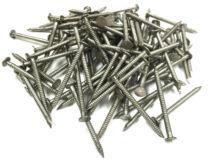 Bingley-based artist Marcus Levine is one of the many artists using stainless steel as a medium to create stunning pieces of art, His focus is often on the humna face and his newest portrait, titled Hard as Nails, was unveiled at a prestigious fundraising dinner in support of the Cervical Cancer Trust.
Levine graduated from art college, where he worked with fellow artist Damien Hirst, before becoming a graphic designer in the television industry. He went on to become a professional artist and has created a nail portrait of the Queen and Prince Philip, which used an incredible 14,000 individual stainless steel nails.
Other work by Levine includes 3D sculptures, such as his famous recreation of the most expensive handbag in the world - his version featured Swarovski crystals glued tightly to the heads of stainless steel nails.
"I'd wanted to do a portrait of Vinnie Jones for ages," explains Levine, "The title was such a good pun, I thought it would be a great thing to do". The artist has already begun work on his next piece (a portrait of Al Pacino) and another of Cheryl Cole. He has plans for several other pieces and so his schedule of work looks pretty full up for the foreseeable future!
Whether you are doing anything from creating art to building a fence, choosing stainless steel nails of high quality is essential to ensure the success of your project.
Our range of stainless steel fixings will contain the right materials to deliver professional results every time and our skilled technical staff have many years of experience in providing impeccable knowledge and customer service.
Need nails? Choose BS Fixings for guaranteed quality at the most competitive price.