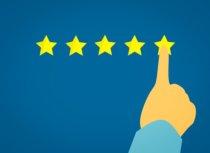 They say in business that there's only one measure of success: you get repeat customers. This is certainly true for BS Fixings and indeed we maintain and always form new, lasting connections with our customers. In our humble opinion, there just isn't enough of that good old-fashioned customer-always-comes-first attitude and so we always try to redress the balance. You will always find that attitude here at BS Fixings and it's obviously working as you keep coming back time and time again. So what's missing?
We want to connect with you more closely and find out your experiences with our products; we also want to connect you more with each other. Nobody judges a product with quite the same objectivity as a customer and so we would like to get more of you leaving your reviews when you come back to our website. Grumbles, gripes or groans? Let's hear them. Admiration, adulation or amazement? Tell us about it!
Since buying products online became the norm, the humble review has gained a massive significance that it never had before. Reviews are an essential part of our purchasing decisions whether we are talking about a tasty takeaway or a trip to Torquay.
It's really easy to add a review, especially if you are returning to a product page to stock up on more. Here it is in six simple steps -
Click the review tab on the relevant product page
Add your email (required, but we won't publish it if you ask us not to)
Review the various aspects from 0-5 stars
Add an extra comment if you wish
Prove you're not a robot with the spam protection code
Hit SEND and you're done!
Check out our newest product (stainless steel trunking clips) and don't forget to leave your review! You can also contact us directly if you need any advice, information or support from our expert team: we want to make sure you always get the best from us and it's especially important when it comes to new products like our stainless steel trunking clips.