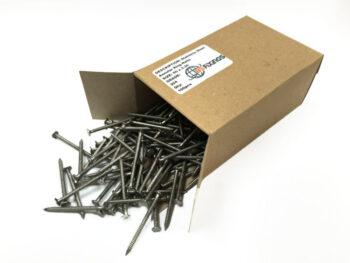 One of our best-selling ranges here at BS Fixings is our stainless steel annular ring nails. Used to separate wood fibres and then lock the wood fibres back into the rings that then resist removal, these are typically used in softer woods.
We previously only carried one size of our stainless steel annular ring nails but we've now added 9 new sizes to our range due to the popularity of these annular ring nails.
As mentioned at the start of this piece, these are popular due to their grip and removal resistance which means that they're mainly used for decking board, dry wood or drywall applications. Using these annular ring nails on hardwood applications can cause irreparable damage and result in waste material so it's vital you check what you're using these on before you start on any jobs.
The only size we used to carry was 50 x 3.35mm and they were incredibly popular. The 9 new sizes we've added are:
50 x 2.65mm
25 x 2.65mm
40 x 2.65mm
65 x 2.65mm
25 x 3.35mm
30 x 3.35mm
40 x 3.35mm
60 x 3.35mm
75 x 3.35mm
With 10 different sizes now available and coming in boxes of 250 and starting at just £7.32 including tax (£6.10 excluding tax), per box, what are you waiting for? Visit our dedicated stainless-steel annular ring nail page and get your order in today.
Got a question about our range of annular ring nails, or any other products on our site? Feel free to give our sales team a call today on 03330 117818. Alternatively, you can use the new live chat feature, the contact form on our website or send us an email (info@bsfixings.co.uk) and we'll gladly assist you.