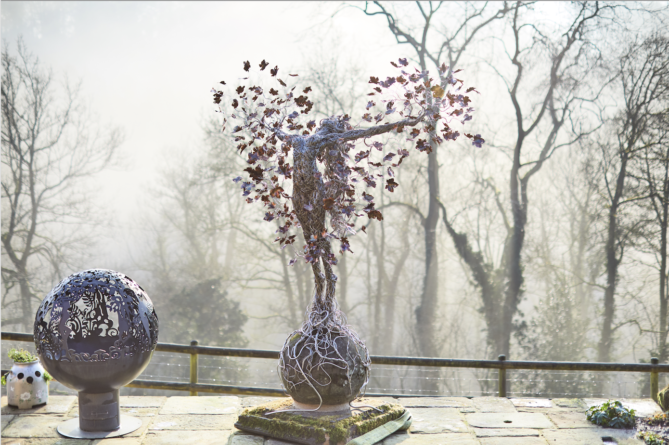 We are very excited to see our stainless steel sculpting wire has been used on national television. The talented artist Robin Wight has recently made an amazing sculpture in Trentham Gardens, Staffordshire to commemorate the people who donate organs each year.
The project was showcased on The One Show on 22nd March 2022. The segment covered a moving ceremony in which the sculpture, entitled 'Beyond Ithaka' was unveiled. Ithaka is a Greek island that was home to the mythological hero Odysseus, who traveled the world on several dangerous adventures, yearning to return to Ithaka; the island symbolises the importance of the journey of life.
The sculpture was created from a stone ball and plinth, which were rescued from the demolition of the original Trentham Hall. Robin used thousands of metres of our stainless steel wire to sculpt a giant figure of Mother Nature before finishing with the addition of 400 copper leaves, all shaped into a heart, representing the logo of NHS Organ Donation.
Beyond Ithaka is built to be a place for grieving families to remember the lives of loved ones who donated their organs and saved the lives of other people desperately in need. In Robin's own words, "The basic concept of the design is something beautiful growing from the remnants of the past."
As founder of FantasyWire, Robin constructs a range of beautiful art pieces, using stainless steel wire which has been provided by BS Fixings for several years. When approached to team up with us and NHS, he was excited and we proudly supplied him with some of the materials needed to bring his creative vision to life.
Best wire for sculpting
Our sculpting wire is perfect for creative minds. It is strong and durable, whilst also being soft and easily malleable by the human hand, allowing the artist to shape it however they want.
Are you interested in building your own sculptures? Then why don't you buy our Sculpting Wire Multi-Pack? It's a great way to start. The pack contains three 1kg coils of stainless steel wire, coming in thicknesses of 0.7mm, 1mm, and 1.6mm.
Our Stainless Steel Tying Wire is also great for sculpting and we sell it in thicknesses ranging from 0.6mm up to 1.6mm. You can buy them in different amounts ranging from 1kg coils up to 15kg.
You can browse through our website to find the right sculpting wire for you, however, if you need further assistance, don't hesitate to get in touch with our team, they're here to help.