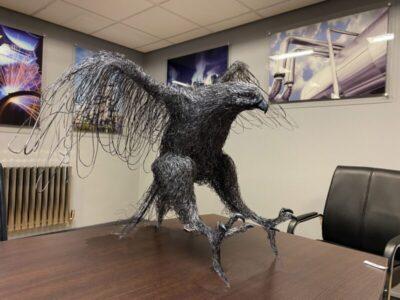 In recent months, we've picked up on some novel uses for our products. Some of our customers use our products for their intended purpose, or the purpose we are aware of at least. One example would be using sign banding to fix signs to lamp posts. However, other customers have either really niche uses for our products, or completely different uses altogether.
Flue guards: Built for hen-durance
The first we noticed was from a Trustpilot review, left by one of our lovely customers, Annette Holborn. When she said, "An excellent product (a flue cover) which now works brilliantly as a chicken feed hopper protector", we just had to find out more. She was kind enough to send us a couple of great images of the cover in action. It looks like it's doing an egg-celent job!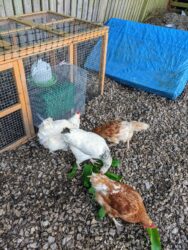 Check out this snap!
Melody Hopkins at Wright & Co. called us to order some of our stainless-steel wire. Most customers use the wire for fairly simple applications, including tying things together. At Wright & Co, however, our tying wire is used in a machine to cut brandy snaps, that can be found in shops and cafés around the country. Melody even sent us some in, along with some of their delicious ginger biscuits. What a day that was!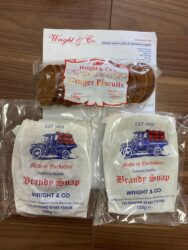 You band what together?!
Our banding tools are usually used to tension banding around posts, which isn't particularly exciting. However, we recently sold one of our tools to Town and Country Hot Tubs Ltd, where they use it to tension banding around their exquisite cedar hot tubs and Japanese baths. They look amazing. Seriously.
What can't wire do?
We've also had an order for some tying wire from the Royal Horticultural Society recently. Now their larger plants are proudly held up with BS Fixings very own stainless steel wire.
Speaking of wire, Hayley Jones recently got in touch to show us some pictures of a breathtaking wire sculpture she made using our stainless steel tying wire. The sculpture was commissioned by Wilmott Dixon for a New Primary School in Yatton, North Somerset. The reason why the Eagle was chosen is because a foot of one was found in the archaeological dig that happened prior to the build. The wingspan of the sculpture is an impressive 8.5 feet, complete with pewter claws and beak, and glass eyes.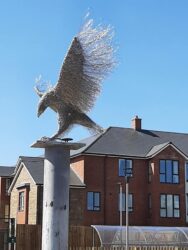 We've also had a couple of big film studios purchase tying wire from us in recent months. However, we aren't allowed to tell you which studios I'm afraid, that's top secret. We don't want to give anything away. Or be sued. But just know that when you're watching a blockbuster film, the set could be constructed from our products. How cool is that?!
If you've purchased one of our products, and think the use you have for it may be of interest to us, drop us an email by clicking here.