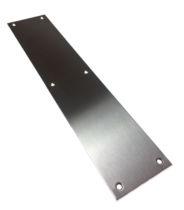 Stainless steel door plates combine attractive, aesthetic with robust protection from everyday wear and tear, prolonging the door's service life. BS Fixings supply both Kick Plates and Push Plates to protect any door from the many hands and feet that will be used to open and close it over the years. Our kick and push plates can be found protecting doors all over the UK, in extremely diverse places that range from nursing homes to Pizza Express restaurants.
As well as leaving behind dirt, marks and stains, constant pushing and/or kicking in the same place on a door can wear away its coating and even damage its internal structure if left unattended to. This can easily be prevented with quality stainless steel door plates from BS Fixings! Check out some features below:
Both Kick & Push Plates can be simply and securely attached to almost any standard-sized internal or external door using the quality stainless steel screws supplied with each item
Each piece measures just over 1mm in thickness, fitting flush with the door to provide a clean visual and offer no inconvenient protrusion
We are proud to support British manufacturing and so these products are made in the UK by trusted experts with great experience in the industry, using grade 430 stainless steel to deliver complete wear- and corrosion-protection
Once installed, these stainless steel door plates require little maintenance other than routine cleaning - just check that the screws stay tight and you're sorted!
As with all products sold and supplied by BS Fixings, you can order with complete confidence knowing that quality is guaranteed and all official standards, as well as our own stringent internal protocols, are strictly adhered to
Stainless steel door plates form part of our ever-growing collection of stainless steel fixings, fastenings and more. Please enjoy browsing our stainless steel door plates and give us a call to find out how to make the most of them.