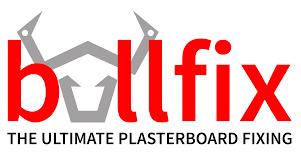 When it comes to shelves, baskets, cabinets, or even radiators and bathroom suites to plasterboard fixing, it is important you have the right tools for the job, which is why you need to check out our online store where we stock a whole range of Bullfix Plasterboard Fixing Packs!
The Bullfix Universal Plasterboard Fixings Starter Pack is an ideal kit for someone who wants to get the job done. Included in this pack are 10 Bullfix Universal fixings, 10 5x20mm screws, and a 20mm drill bit. The Universal fixings of this pack can be used with stud, dot, and dab, or insulated plasterboard walls. They work with plasterboard of standard thicknesses (usually between 12.5mm and 16mm) and require a cavity of only 7mm behind the plasterboard. They have the capacity to support weights of up to 113kg.
Next, let's talk about the Bullfix Extra Plasterboard Fixings Pro Pack. "Designed for strength", this pack is a simpler, smarter, and stronger way of fixing heavy objects to stud walls. In this pack, you get 24 Bullfix Extra fixings, 24 5x35mm screws, and a 20mm flat drill bit. Bullfix ensures that a cavity of only 20mm is required, and any 5mm screw is accommodated.
The last product from our Bullfix range we are going to discuss is the Bullfix Extra Plasterboard Fixings Bulk Pack. In this bulk pack, you get 96 Bullfix Extra fixings and 96 5x35mm screws!
Just for clarity, Bullfix products with "Extra" in the title are best suited for stud walls, whereas those best suited for stud walls, dot, and dab or insulated plasterboard have "Universal" in their name. We have many more products in this range, so click this link to check out the rest of our Bullfix range!
Now that you have a good idea of what packs are available for your plasterboard fixings job, you probably want to know how to use them. Look no further, as we will now discuss exactly what you should do for a successful installation! Follow these steps chronologically and you are on your way to successfully using the Bullfix Plasterboard Fixings!
Drill a hole using a 20mm flat bit cutter applying gentle pressure.
Insert the collar with the slot running vertically and press firmly; assist with a mallet if needed.
Insert the Bullfix plasterboard fixing into the collar and push until it is flat with the surface. The fixing cannot fall into the cavity.
Attach the object/bracket to be fixed to the plasterboard using the screws supplied or standard No 10/5.00mm diameter screws.
Job complete!
That concludes this week's blog post on our Bullfix range! If you have any more questions or queries regarding our Bullfix range, click on the specific item where you will find a more detailed description, with downloadable links in the "Product Attachments" section. Alternately, contact us via phone on 03330 117818 or email at info@bsfixings.co.uk.