Our wall tie range has become a very popular product category with our customers. Used to secure walls together in a variety of construction and building projects, we have an extensive range of wall ties available on our website that can be used for masonry to timber, steelwork and pre-existing walls.
Helical Timber Frame Wall Ties
The helical timber frame wall ties are a well-loved product of our customers, designed to secure a timber frame to an external brick wall, in new builds and retrofit projects. They are suitable for domestic and commercial infrastructures up to four storeys high, which makes them a fantastic all-around product. These 4.5mm ties can absorb considerable vertical movement within cavity spaces of up to 165mm. Where the average wind speed is around 25m/s and the altitude is no higher than 150m about sea level, these frame ties will ensure that the building stays sturdy and secure. Just like many of the products we stock, these helical ties are manufactured out of 304 stainless steel, to ensure you acquire a product that is long-lasting, non-combustible, and corrosion resistant. These ties play an integral part in a building's foundation, and they will provide you with over 60 years of service!
Hand Tool
If you're looking to use these helical timber frame ties, but don't know how to install them, we have the tool for you.
We also stock a hand tool to be used with the wall ties, for an easy and simple installation process. This hand support tool ensures the helical tie is not damaged when being installed, which can occur with other tools. The right and most compatible hand tool is essential for installing wall ties, as they can easily bend and become damaged with a tool that is not well-suited.
The tool is designed with a tube end that accommodates different remedial tie lengths and can be cut down to fit shorter ties. The tube should be cut to 50mm shorter than the tie being used for the correct installation, for the tie to be securely set within both masonry leaves.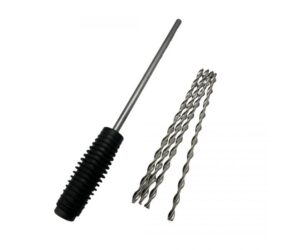 Installation Process
The helical timber wall ties are installed when the outer leaf is constructed.
Insert the helical wall tie into the hand tool and cut the shank of the tool to the desired length.
The helical timber ties have a pointed end to pierce through the timber frame easily.
Using the hand tool with the inserted wall tie, position it on the outer leaf where required.
Drive/hammer the tie into the timber internal leaf. Ensure that the tie has reached the required depth.
Embed the external end of the tie into the new masonry leaf, to secure both sides of the cavity.
Both the helical timber wall ties and the hand tool are available to purchase on our website. The ties are sold in boxes of 100, and they can be bought in various sizes to suit a range of building tasks. If you would like to make an enquiry about our wall ties or other products, please don't hesitate to contact us today as we will be more than happy to help.