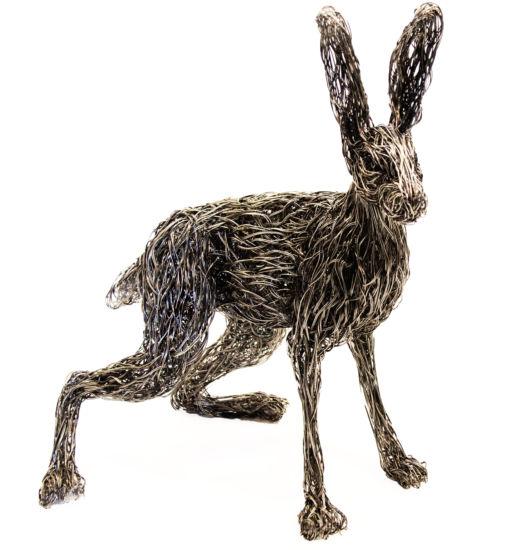 With the largely industrial nature of many of the applications stainless steel is used for – and the accompanying industrial quantities - it is easy to forget just how relatively light, strong, malleable and versatile this miracle metal can be. So it's always good to get a reminder and they don't come much more breath-taking than those supplied by Candice Bees, to whom we have supplied stainless steel wire…
Candice is from Newport in Wales and so is used to living side by side with nature. This inspires her artwork and so she created the amazing, unique sculpture of a hare which you can see in these pictures. When she decided she wanted to create a replica of the graceful creature, she knew that stainless steel sculpting wire was the only material. Like the hare, it is strong and versatile yet light and fleet, well equipped for its environment and perfectly representing the wild animal. And, as the UK's biggest supplier of stainless steel wire, we were the natural place for her to get it from! As you can see from the photograph, Candice perfectly captured the sleek, sure figure of the hare using her talent and our wire – a perfect combination, we think you'll agree!
Since creating the stainless steel hare, Candice has gone on to gain more recognition for her talent, winning the Urban Wildlife category of the David Shepherd Wildlife Artist of the Year competition. For the winning piece, inspired by her success with the hare, Candice was much bolder and more confident, creating a life-sized sculpture of a wolf, which sounds deliciously frightening. "Hopefully this will help to put me on the map a bit and mean that I require much more wire in the future," she says - well we will certainly be here to provide it for her.
There is only room in the world for so many metal animals and their creators and, like the majority of us, you will probably be using your wire for welding, tying making springs or one of the other hundred uses it's good for. So it's good to know that whatever we are supplying wire for, we guarantee it will be of professional, consistent quality from metre one to the very last.