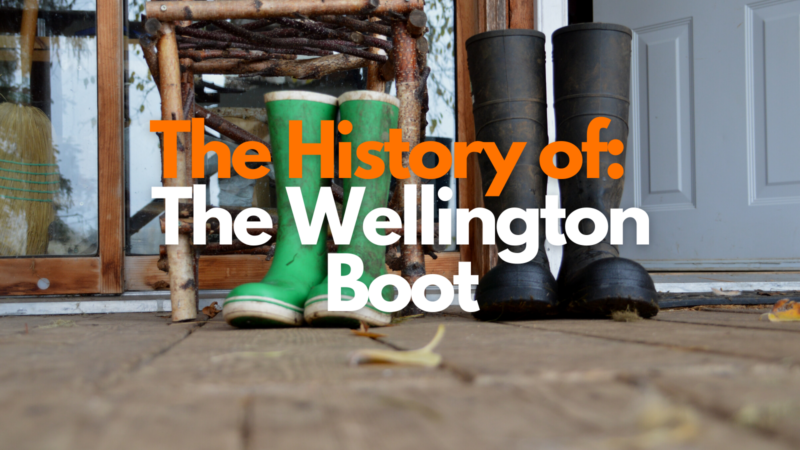 Originally, the Wellington boot was a kind of boot made from leather which was adapted from Hessian boots, a style of military riding boot.
They were worn and made popular by Arthur Wellesley, 1st Duke of Wellington. The 'Wellington' boot became a common form of practical footwear for the British aristocracy and middle class in the early 19th century.
The name was then given to waterproof boots made of rubber and no longer became associated with a particular social class. They are now commonly used for a range of agricultural and outdoors pursuits and are often the 'go-to' footwear for outdoor walking, attending festivals, or working on the farm.
The Wellington boot started its life when The Duke of Wellington asked his shoemaker, Hoby of St. James's Street, London, to modify the 18th-century Hessian boot.
The resulting newly designed 'Welling Boot' was constructed in softer calfskin leather. It also had the trim removed and was cut to fit more snuggly around the wearers leg. The heels were lower cut, and the boot stopped at mid-calf making it a little shorter than the original boot.
The boot was suitably hard-wearing for riding, yet smart enough for informal evening wear. The boot was named the Wellington and the name has stuck in the English language ever since.
Production of the Wellington boot increased significantly with the start of World War I and a need for footwear suitable for the wet and muddy conditions of Europe's trenches. The North British Rubber Company (now Hunter Boot Ltd) was tasked by the War Office to make a boot suitable for these harsh conditions. The factories worked day and night to make huge quantities of these boots and in total over 1.1million pairs were made to meet the needs of the British Army. Hunter Boot were again asked to supply large quantities of Wellington and thigh boots as World War II started.
By the end of the war in 1945, the Wellington Boot was becoming popular among women, and children as well as men and the boot had developed to become far roomier with a thicker sole and rounded toe. The lower cost and ease of using rubber in manufacturing, and being entirely waterproof, lent itself to being the preferred material to leather in the production of the Wellington Boot which is the material we now most closely associate with the Wellington Boot. At BS Fixings we currently stock 2 'Rubber Wellington Boots', Dunlop Pricemaster Wellington Boots and the Dunlop Protomaster Wellington both of which can be purchased online.