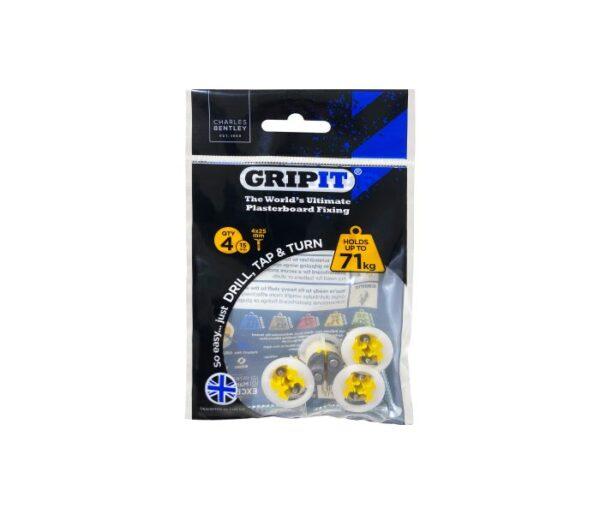 You may have noticed on our website that we now stock the rather famous (Dragons' Den) GripIt range of products. Well, we thought it would be a rather good idea to share a bit of advice on how to use and fit the GripIt fixings.
GripIt fixings are used to attach heavy items to plasterboard walls. Across the four different sizes, GripIt fixings can hold from 71-113kg, meaning you can attach anything from curtain rails to televisions to your plasterboard walls.
Unlike many other forms of fixings, it's not immediately clear or obvious how you fit the GripIt fixings so hopefully we can help you avoid making some initial frustrating mistakes - the most obvious of which is to make sure you use the right colour of fixing for the job in hand (yellow for blinds, curtain rails and audio-visual equipment, red for shelves, shower units and speakers, brown for lighting, AV equipment and radiators and finally blue for boilers, kitchen cabinets and TVs ) and the right sized drill for making the hole as they are different sizes.
To fit GripIt Fixings, you will need: GripIt Fixings, the relevant size flat drill bit, and a hammer, all of which can be purchased on the BS Fixings website.
STEP 1
Use a flat drill bit to drill a hole in the plasterboard, making sure you use the correct size drill for the size of the GripIt fixing as they are not all the same size. For example, use our GripIt 15mm Flat Drill Bit with the GripIt 15mm Plasterboard Fixings (yellow). For a dot and dab or double depth plasterboard, use an undercutting tool.
STEP 2
Use a hammer to gently tap the fixing into the drilled hole. There is an arrow on each GripIt to help you correctly align the fixings in the wall.
STEP 3
Use a screwdriver to turn the cam and open the wings for super grip strength. To reuse GripIt, simply reverse the action to close the wings and remove from the wall.
STEP 4
Slim gripping wings open in the cavity behind the plasterboard when you turn the cam to provide a secure anchor and distribute weight more effectively than conventional fixings or plugs.
For more information on the GripIt range of products, visit our dedicated GripIt page here
As always, if you have any problems, or need advice, just get in touch with our team.