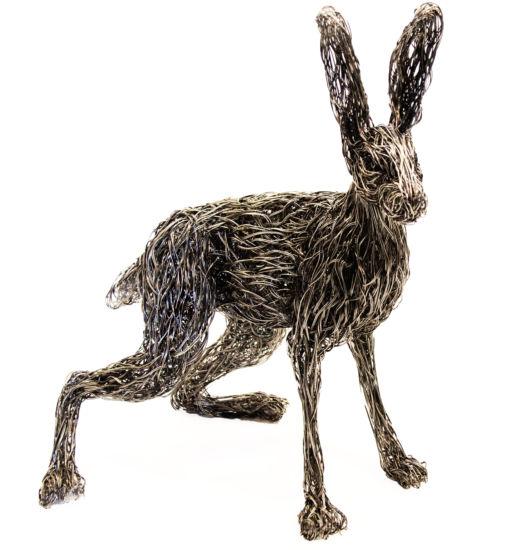 The new year is here and, if you've stuck to your resolutions, all of your projects are finished. This means you'll be itching to start a new one and if you're all out of ideas then allow us to suggest something that's fun, easy and could end up being very profitable...
Most people have some degree of artistic talent; it's finding the right medium that can be difficult. Stainless steel might not seem like a particularly artistic medium but that's where you're wrong! Lots of artists have discovered that, far from being only an industrial material, stainless steel can be used to create magnificent sculptures that have the added benefit of being particularly durable and so perfect for outdoor display.
Regular readers of our newsletter will remember Robin Wight, an artist who came to us some time ago to purchase lacing wire, which has since been also known as sculpting wire. From this material, Robin created a series of fairy sculptures which attracted immediate attention from the buying public and also critical acclaim. His sculptures became immensely popular and Robin set up a website from where he sells his creations and takes bespoke orders. His work has been commercially successful continuously since, notably featuring in the Harrods' catalogue.
Learning to sculpt is easy; the wire is especially malleable and can be bent, twisted or tied just using the power of human hands. You may not feel like you are a particularly artistic person but just a few minutes spent playing with the sculpting wire will show you otherwise! The material is so easily worked that you will find yourself creating shapes and forms almost as if by magic and once you get started it is difficult to stop…
Annealed stainless steel wire from BS Fixings is most popular when formed from Grade 304 A2 stainless steel; it's durable, resistant to corrosion, easily formed and holds its shape well. Usually used for fencing, garden work, insulation and rebar amongst other applications, the wire really comes into its own when used for artistic sculpting purposes.
Stainless steel wire is available in a range of widths on 1kg coils so why not order one and have a go at sculpting? Even if you find that the practice is not to your taste, you'll still find hundreds of practical uses for it around the home and garden and, with our highly competitive pricing, you've got nothing to lose.
We would love to see the results of your artistic efforts with our sculpting wire so please email us with your stories and photos. Happy sculpting!