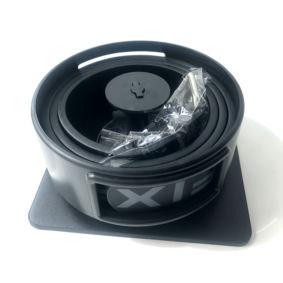 At BS Fixings, we work with carefully-selected partners to bring you a wider choice of products. Our newest such partner is Reelfix, which offers a unique, efficient and extremely cost-effective range of tying wire and related accessories.
Tying wire is one of the most versatile stainless steel fixings and so these handy spools have literally thousands of applications. Weighing just 2kg each, they're convenient to carry and store, as well as being supremely easy to use. A selection of sizes is available in either 304 grade stainless steel or black annealed steel.
Traditional larger coils of tying wire can be, as well as being cumbersome and thus sometimes difficult to use, dangerous to the operator: tripping hazards and flying end injuries are the most common dangers. Representing an immediate, ingenious solution to these hazards, the Reelfix Dispensing Belt and Reel Set is designed to safely enhance productivity and reduce wastage at the same time. A leather belt with specially-designed support pad allows heavy-duty applications to be carried out with minimal risk and maximum comfort.
Designed as a versatile tool holder, the Galvanised Tape/Nip Frog from Reelfix attaches quickly, easily and securely to the Dispensing Belt. This item is made using high-quality galvanised steel and can be used with all brands of nip.