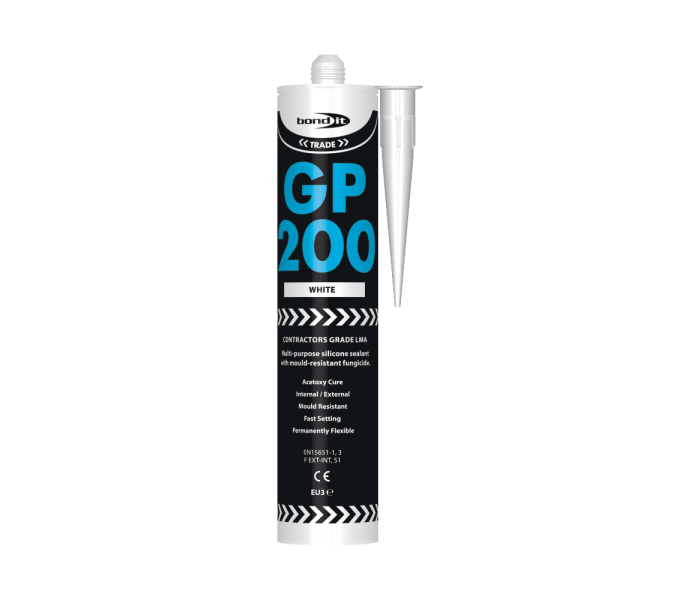 When it comes to household repairs or larger construction projects, we all know that finding the right screws and nails to bond your materials together is a difficult process, especially when each accessory has to fit your power tool. However, nowadays there is an alternative solution that many of us, including our team at BS Fixings, have grown to love and that is silicone adhesive!
Silicone adhesive is a very versatile product, due to its heat resistant and water-resistant properties, making it suitable for both indoor and outdoor use. Many sealant and adhesive products are created for multi-purpose use and are formulated to adhere to various materials such as glass, metal, plastic, ceramic, and more. Numerous industries including construction, automotive, and electrical have adopted silicone adhesive as an effective bonding agent, and it continues to be used in other applications.
How does silicone adhesive work?
When first applied, silicone adhesives are in liquid form, with a gel-like consistency that makes it easy to apply. Unlike some other adhesives, silicone adhesive needs to be cured to fulfil its purpose, in other words, it needs to be left to dry for a period of time for the product to work effectively.
Many of the silicone adhesives we stock here at BS Fixings, need to be applied at temperatures between 5°C and 40°C, for them to cure correctly. Although some can take as little as a day to cure, the more time you leave the sealant to set, the stronger it will become. Once silicone adhesive sets, it transforms into a rubber-like texture which is durable and resistant to water and heat elements, and unlike other polymer-based adhesives, silicone keeps its elasticity. The elastic bond that is formed is robust and holds its shape very well over long periods, and for that reason, it is excellent at sealing materials together and keeping unwanted air and moisture out. Silicone adhesive is typically used for window seals and bathroom sealing because of this feature.
Why do people choose silicone adhesives?
As stated above, silicone adhesive is waterproof and very resistant to both high and cold temperatures, meaning it can be used in a range of industries and applications.
Silicone adhesives are very easy to use - they are commonly manufactured in squeeze tubes or cartridge formats for simple manual application, and many are designed with a tight nozzle for a neater finish.
Using silicone adhesive is hassle-free - other than waiting for the product to cure there is no further equipment needed.
Once applied, the silicone seal requires little to no maintenance and is very hard-wearing.
Many silicone adhesives are mould resistant, containing a fungicide to reduce the spread of various types of fungus in wet and humid conditions.
Our top 3 silicone adhesives at BS Fixings
Here at BS Fixings, we stock a range of silicone adhesives and sealants, all of which can be used for multiple purposes. The majority of our silicone adhesive range is supplied by Bond It and falls under two categories, neutral cure and acid cure. Neutral cure adhesives tend to be low modulus, and acid cure variants are usually high modulus. High modulus adhesives generally cure faster and harder than low modulus adhesives and tend to be less flexible when set.
This product by Bond It is a low modulus, multi-purpose silicone rubber adhesive, that is suitable for most sealing jobs including kitchen, bathroom, and general DIY applications. It contains a fungicide substance to reduce mould spread and is available in 4 different colours, to match the materials you are working with.
Grip Bond Pro is a high modulus hybrid sealant that contains both sealing and adhesive properties. This product is one of our favourites due to its superior bonding strength and permanent flexibility. Unlike some other sealants and adhesives, this product can adhere to most surfaces and can even be applied wet on wet! If you need a very strong adhesive, we suggest checking this one out.
HT30 High Temperature Silicone
HT30 is an acetic curing silicone adhesive, specifically designed to withstand high temperatures. Not only is this product waterproof and UV resistant, but once cured it can resist temperatures of 250°C permanently and up to 300°C for short periods. Whether you work with car engines, machines, or large heating systems, HT30 will not lose any of its sealing properties under extreme conditions.
If you wish to find our other sealants and adhesives, please click the link to our home and garden products page, where you should find everything you need to know. Alternatively, if you require any more information about silicone adhesives or need help deciding which product is best for you, feel free to contact our team and we will be more than happy to help.