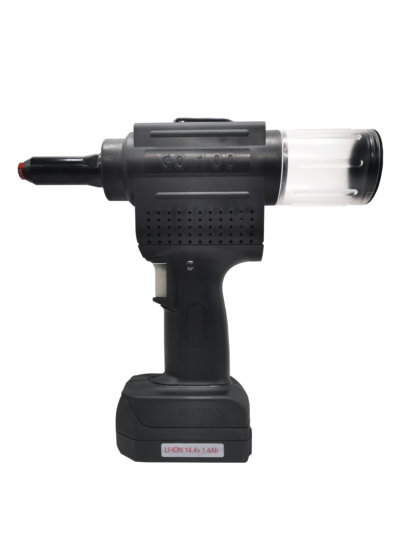 For hundreds of years, rivets have been used for countless thousands of applications right across the spectrum of industry. Delivering a firm, reliable means of attaching two pieces of material, rivets are as important today as they have always been: what has changed is the materials and technology used to create them and the tools needed to apply them correctly.
Our eclectic yet comprehensive collection of riveting tools is now available with a tasty 10% discount in the big BS Fixings summer sale. The collection includes the bestselling GO-100 Battery Powered Rivet Gun: here is the lowdown on this revolutionary piece of equipment...
The GO-100 rivet gun is, thanks to its lightweight onboard battery, extremely simple to use, with no wires to get in your way. It incorporates a handy receptacle for broken rivet mandrels, automatically storing them as you work and saving you lots of time. When the roomy storage box is full of broken mandrels, simply operate the easy twist cap, empty the gun, twist the cap back into place and continue.
Unlike with many other items, the battery IS included with the GO-100 rivet gun. It's rechargeable and one charge will allow you to work for a long time before the battery needs to go in the included charger. Purchase an extra battery from here at BS Fixings, also with that 10% discount, and you can have one battery charging while you're using the other, cutting downtime to zero! The whole kit and caboodle comes complete with its very own hard case, perfect for storage and transportation.
We can't stress enough just how easy the GO-100 rivet gun is to use, compared with similar tools. To illustrate the process, we have created a step-by-step video which you can find on the BS Fixings YouTube channel.
Order your GO-100 Rivet Gun today!