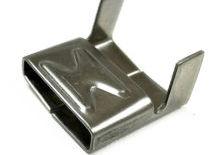 BS Stainless, our parent company, created the Bandfix family of products which is designed to facilitate a diverse range of applications with consistent quality. Sign fixing is a major use of the Bandfix system thanks to its versatility, durability and cost effectiveness.
For these reasons, Bandfix continues to increase in scope and popularity and the whole system is available to purchase from BS Fixings for jobs that are a little smaller in scale than building LNG plants in the Arctic Circle, just one of the projects currently being supplied by BS Stainless.
Stainless steel banding, as part of the Bandfix system, is supplied by us according to all relevant quality and safety guidelines and we offer two standard sizes from stock.
The banding is supplied tightly and securely wound and, with innovative deburring technology, is among the most secure available on the market today. Quick, reliable and easy installation is a further factor contributing to the user-friendliness of the Bandfix system.
The edge-dressed stainless steel banding that forms the core of the Bandfix system is used in close conjunction with buckles and clamps, secured with a dedicated banding tool.
All of the accessories supplied with our stainless steel banding offer professional results every time when fixing all types of sign and are in constant development for optimisation by BS Stainless designers and engineers.
Buckles secure the banding quickly and effectively in place. Standard screw buckles can be supplied in either 304 or 416 grade stainless steel, guaranteeing resistance to corrosion and tightly holding even heavy signs throughout all weathers.
Quick and simple to use, the buckles are perfect for both temporary and permanent applications and can be used in small, awkward areas.