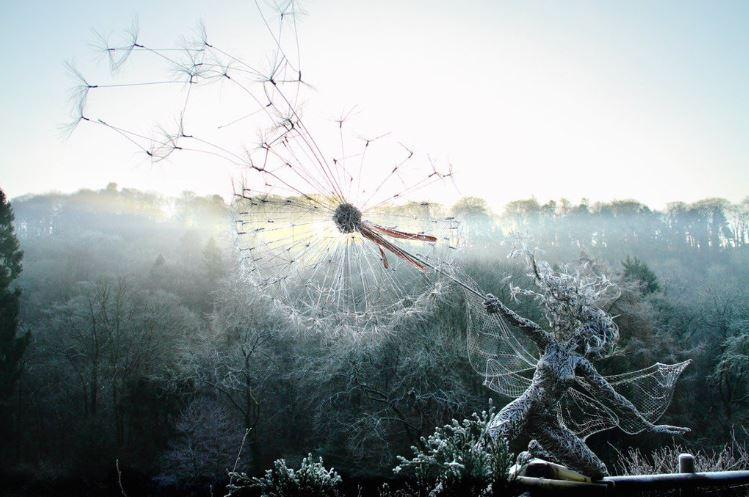 We, BS Fixings, have a unique connection with an artist who has given us great pleasure over the years we have known him. Robin Wight approached us some time ago, requesting any old scraps of stainless steel wire we might have hanging around the place as he was thinking about putting an artistic idea into practice…
Robin left our premises happy with his pickings and that's when the magic started. He began producing the most elegant, ethereally beautiful sculptures based on the fairy myths of various cultures, the wire flowing almost like ink through his talented fingers. It is probably rare to hear such words used in description of a stainless steel object but Robin has patiently and expertly worked the metal to such a fine degree that many of the fairies and flowers he creates seem almost weightless.
The pieces were at once acclaimed as works of art and Robin quickly found himself in high demand, chalking up a commissions list long enough to last him a very long time. From a few simple pieces of wire had sprung an entire artistic movement!
The popularity of Robin's stainless steel sculptures is set to leap into the stratosphere in the coming weeks and months, as he recently featured in the hallowed pages of the prestigious Harrods Magazine. His amazing work is on view for all to see within the glossy, high-class magazine and we bet his phone is ringing off the hook with new clients. Better get back into your workshop and start creating the magic, eh Robin?
Stainless steel as art is simply another example of how the evolving relationship of human beings with the metal is far from over and has many surprises yet to come. If you have used any of our products in an unconventional way, why not let us know? You could see yourself featuring in this very news column! Send us stories, photos etc, and do it today!