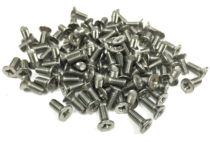 The screw is one of the most common stainless steel fixings and there are many different types available at BS Fixings to suit different applications. Here is a quick guide to some of the screw types we supply, all of which are sold in boxes of either 50 or 100 screws and, as with our entire product range, at the most competitive price.
Machine Screws. These are primarily intended for fastening two objects together. They are made without a pointed end and require pilot holes for successful installation. Also known as machine bolts, these pozidrive screws attach to a matching nut.
Socket Cap Screws. The heads of these screws, which are made using A2 stainless steel, are designed for operation in conjunction with a socket set. Socket cap screws are renowned for their versatility, efficiency and durability.
Socket Button Screws. Once installed, the heads of these screws sit close to the surface, delivering a finish that combines aesthetic value with improved safety. Socket button screws can be identified by their smooth, softly-rounded heads.
Socket Countersunk Screws. A practical and safe solution is provided by these screws, the heads of which fit completely flush to the surface when fully inserted.
Self-Tapping Screws. A sharp point ensures that pre-drilled pilot holes are not required. BS Fixings supply both pozi pan and slotted drive types, which are supplied to DIN standards and within the scope of our ISO 9001 accreditation. A range of standard sizes can be supplied with a choice of options, including a variety of metal grades, zinc plating, hex-head and in bulk packs.
All of our standard screws are available for next-day delivery from stock and many types are currently available with a price discount of up to 20%. If you need help, guidance or support with choosing exactly the right screw for the job you have in mind, simply get in touch with our technical team today.