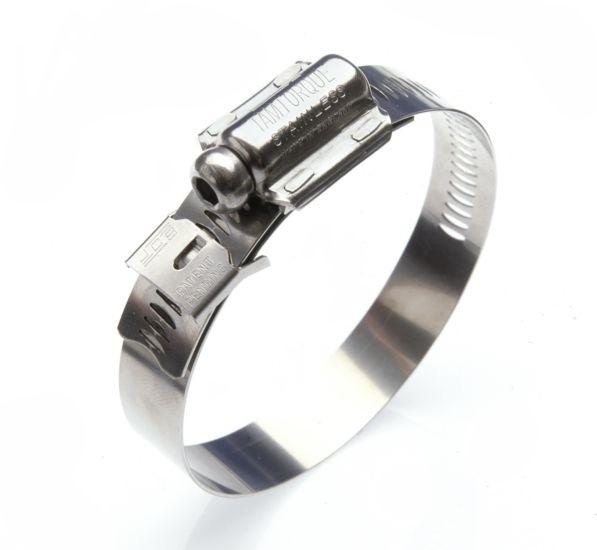 Last week, we published an article about using JCS Tamtorque sign fixing clamps to secure Christmas lights and decorations. As the clamps are fast, easy and safe to use, along with being extremely cost-effective, a growing number of retailers, businesses and councils are using the versatile components in this way.
In this edition of our blog, we're going to show you just how easy the Tamtorque system is to use with a simple step-by-step guide.
Traditional stainless steel banding has a sharp edge that poses an obvious safety risk. This necessitated the wearing of cumbersome protective gloves to avoid the chances of the user being injured; as such gloves seriously impeded dexterity and thus productivity, users often chose not to bother wearing the gloves at all, resulting in many injuries. Tamtorque sign fixing clamps are made from Grade 304 stainless steel coil with a deburred, fully-rounded edge and so only minimal hand protection is required.
Open the banding coil using a drill with a Tamtorque driver power bit attached. These drill bits, along with the Tamtorque T-bar driver tool, feature a seven-sided socket bit unique to the Tamtorque system. Tamtorque clamps can only be attached and removed using these specially-designed tools, dramatically lowering the risk of tampering, vandalism and theft.
Take the object to be secured and carefully thread the clamp through its slots.
Position the banding in the correct place around the securing post. There is a range of differently-sized clamps available and each can be exactly adjusted, allowing posts of any shape or size to be accommodated.
Use the drill with attached Tamtorque bit to engage the screw housings and tighten the clamp
Finish the job by fully tightening the clamp using the T-Bar driver tool.
Removing the clamp is just as easy: simply loosen it using the drill with attached Tamtorque drill bit
The complete and comprehensive Tamtorque sign fixing system, including clamps and tools, is available to purchase from the BS Fixings website at the most competitive price. Check out our video that illustrates these steps: it's available on the product page or on our own YouTube channel, where you can also find lots of other informative clips about the products we supply.