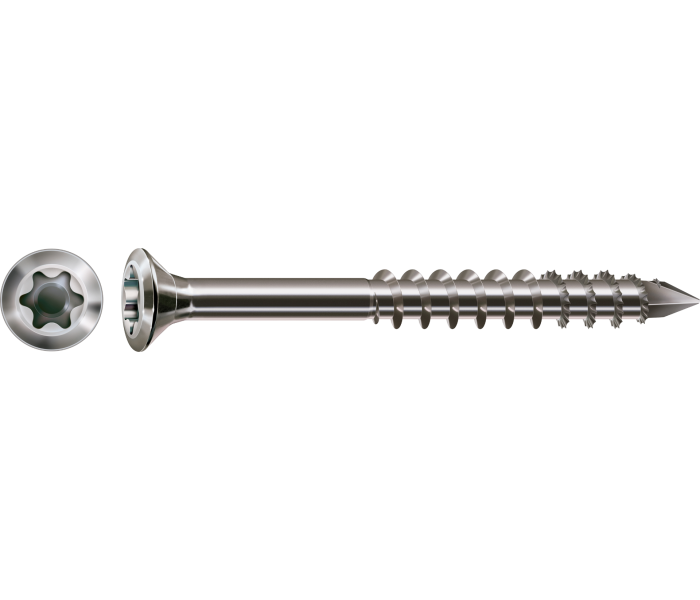 As BS Fixings we are committed to offering our customers not only superior products but superior advice. We have a policy to check and test all the products we sell. We know it's important not only to stock the best products, but also to understand how each item works, how to use them and where they should be used for peak performance. This is everything from a simple stainless-steel screw to our range of protective clothing. This means that everything from our drill bits and screwdrivers to our wall plugs and ring nails is tested. This helps to give us the upper hand when it comes to customer service and product knowledge.
SPAX: Simply the Best
In our quest to offer a great range of DIY products, we have started to stock a wide variety of SPAX screws. This led us to start testing the products, including the world‐renowned "A2 Stainless Steel Timber Construction Screw."
SPAX screws are famous for their German quality, and in recent years, the SPAX T‐STAR plus head. Through testing, we understand exactly why this head has become so popular with the most premium screw brands. The first benefit is the amount of torque that can be generated. Compared to other heads, and certainly compared to slotted head screws, well, there is no comparison.
The six‐point star head not only increases torque, but also decreases the likelihood of the stripping of the screw head. Similarly, it also prevents slippage, or cam‐outs, as the driver bits have tight, specific fits. This leads on to the next benefit we discovered. Tamper resistance. As the screw heads and drivers are less readily available than other more common screws and drivers, T‐Star heads are viewed as harder to tamper with. Consequently, they've been found useful in both the electronics and automotive industries, for both hard drives and brake systems respectively. In recent years, of course, the T‐Star has become increasingly more common. It's really no wonder when companies held in such high esteem as SPAX are manufacturing them.
Not just a pretty face...
Through our tough testing, we found that SPAX screws also outperformed several leading brands in several departments. These include rust and corrosion resistance and reduced splitting. Aside from SPAX products, we are a well-known stockist of a wide variety of fixings, fasteners and DIY and construction products. Products include wall ties, stainless steel banding, tying and sculpting wire, +DART drill bits, annular ring nails, and much more. We also pride ourselves on our service, product knowledge and next day and Saturday delivery across the UK, earning us the rating of "Excellent" on Trustpilot.