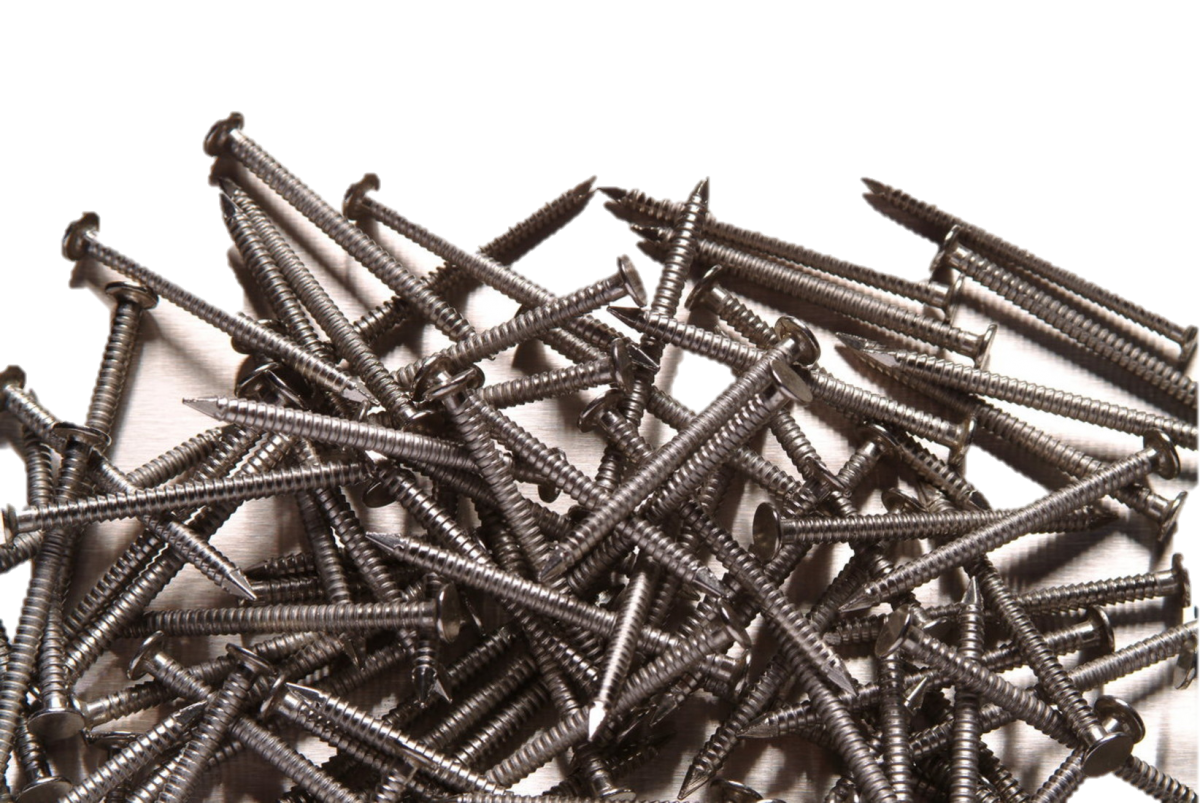 A nail is just a nail, isn't it? Well, you might be surprised at how often we get asked which nail to use by our customers, and how there is more to the common nail than you might think.
There are obvious things that could influence which nail you should use, such as length and thickness, but like almost every other product on the market, new products, new designs and new specifications have been added over the years to improve the performance in more specialist or specific applications.
Round wire nail.
These large round head nails are mostly used for rough carpentry where strength is essential, but appearances are not, and they are inclined to split a piece of wood. Sizes are generally available from 20- 150 mm (0.75in - 6in).
Oval wire nail
These are most suitable for joinery work where the final look of the job is important as they can easily be punched below the surface of the wood, and they are less likely to split it, compared to round wire nails. Sizes are available from 12-150 mm (0.5in - 6in) as standard
Annular ring nails
Stainless steel nails of industry-standard are primarily used in the manufacture of timber frame buildings. From stock, we offer Grade 304 (A2) Stainless Steel Annular Ring Shank Nails in 10 different sizes. This type of nail is used for deck board or dry wood applications and are designed to provide a stronger grip with the material which otherwise could be brought apart due to the nail. Buy them online here
Round or lost head nail.
These are similar but stronger than oval wire nails and can also be easily punched below the surface of the wood. Sizes range from 12-150 mm (0.5-6in) On sale soon at BS Fixings
Tack.
This is a short nail with a flat, wide head which is commonly used for fixing carpets to floorboards and for stretching and attaching fabric to wood.
Panel pin.
This is a round lightweight nail which is used for cabinet making and for fixing small mouldings into place. On sale soon at BS Fixings
Cut floor brad.
Rectangular in shape, they have an L-shaped head and are used mostly for nailing floorboards to joists. Sizes range from 25-150 mm (1-6in).
Masonry nail.
These are made from hardened steel and this nail is used to fix wood to brick, breeze block and most types of masonry.
Square twisted nail.
This nail twists into the wood and offers a more permanent, screw-like grip than plain nails. These nails are used with most timber-to-timber connectors to give a strong positive fix of components. You can buy Sherardised square twisted nails 30 x 3.75mm (pack of 1000) by clicking here
Annular nail.
These are especially useful where extremely strong joints are required. The sharp ridges round the shank become embedded in the wood to give a tight grip.
Clout head nail.
Manufactured from galvanised steel, they have a large, flat retaining head, and they are most suitable for soft materials such as plasterboard or roof felt. On sale soon at BS Fixings
Spring-head roofing nail.
These are the go-to product for fixing corrugated sheeting to timber. The twisted shank and inverted cup head create a strong, wide point of contact.
Corrugated fastener.
Probably more of a fastener than a nail, they are used for reinforcing a weak wood joint or for securing mitred joints in rough framing.
Cut clasp nail.
These are rectangular in shape and therefore difficult to remove. They provide an extraordinarily strong fixing in wood and pre-drilled masonry. Sizes generally available from 25-150mm (1-6in).
Hardboard nail.
These have a diamond-shaped head which is almost completely hidden when hammered into hardboard. Sizes available from 9-38mm (3/8-1.5 in).
Sprig.
A Spig is a small nail without a head. They are used mainly to hold glass in wooden window frames before putty is applied which covers up the nail. Sizes available from 12-19mm (0.5-0.75in)
Upholstery nail.
Available in many metallic finishes, the dome head gives a decorative finish when nailing chair and furniture coverings into place.
Staple.
These are U-shaped round wire nails with two points to hold lengths of wire in position. This enables them to grip a wire to the wood surface. Some staples have an insulated lining for fixing flex and electric cables.
At the time of writing, we are waiting on the delivery of 3 new ranges of nails. Panel pins, clout head nails and lost head nails, so keep visiting our website in our fixings section here if we don't currently stock the exact nail you are looking for, as new lines are arriving all the time.