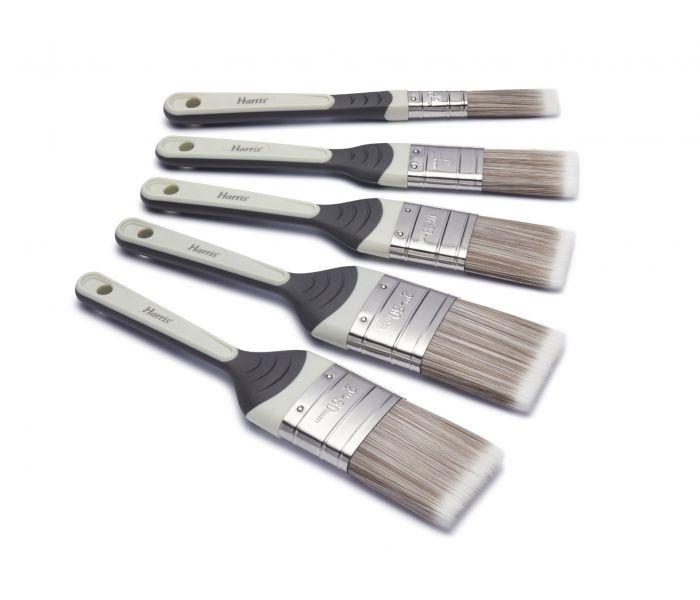 In the past, like many households, deciding which paintbrush we should use for any particular job usually came down to what paintbrush was clean and easily accessible in the draw under the Kettle in the kitchen. But having worked at BS fixings for many years now, I now know there is far more to choosing the right paintbrush than which is the easiest to reach or simply the cleanest.
Paintbrushes are designed for different jobs and different materials. They come in a variety of sizes, angles, and brush materials and are all optimised to provide the perfect finish, along with prolonging the lifespan of the brush.
If you're just starting out, and want an all-around brush that will work for painting trim or cutting in a room, we recommend a 2-inch-wide, angled brush like this one from Harris https://bsfixings.uk/harris-seriously-good-walls-and-ceilings-angled-brush/ . If you add this to your toolbox or under kettle drawer, you will not go far wrong!
However, if you are more of a professional and are looking to purchase a number of paintbrushes for different jobs, then here are our tips for ensuring you use the right paintbrush for the job.
Choose the right bristle type
Paint brushes are available in 2 main bristle options; synthetic bristles and natural bristles made from animal hair. If your project is using paint or varnish that can be cleaned off with water (check on the tin to see if it's water soluble), then choose a brush with synthetic bristles. If it is an oil-based paint or varnish that you are applying, then a natural-bristle brush will probably be a better option.
Choose the right size of brush for your project
If you are painting or varnishing woodwork, choose a small brush (1 ½ inch wide) for more control. If you are painting trim that is wider than about 3 inches, a slightly wider brush would be a better solution. When painting walls, you will use a paintbrush primarily for cutting in. People use anything from a 2 ½ inch up to a 4 inch wide brush for this job. Generally, though, the only time you should need to use a brush wider than 3 inches is if you are painting fencing, panelling or other wide, flat surfaces. We sell a 5 pack containing brushes from 0.5 inch up to 2 inches called the Harris Walls and Ceilings Flat Brush (5 Pack) to get you on your way.
Here is our quick guide to brush sizes and common uses
Brush width Ideal for
0-1-Inches Cutting around glass or window frames.
1-2-Inches Skirting boards, architraves, door frames and panel doors
2-3-Inches Large flush panel doors, walls, and ceilings
3+ Inches Outdoor applications, sheds, fencing and decking.
Choose the right shape.
Some brushes we stock here at BS Fixings have bristles that are cut at an angle, and some have square ends. If you are going to use the brush to paint trim or cut in before rolling walls, then we recommend choosing a brush with an angled tip such as our Harris Walls and Ceilings Angled Brush. These brushes have been specifically designed and engineered to give you seriously good results when painting walls and ceilings with emulsion paint and the angled brush head gives you more control when cutting in.
As always, if you need more help on any of the subjects or products covered in this blog post, please get in touch .