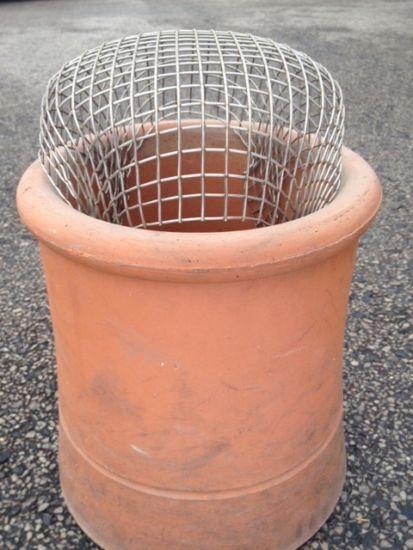 Birds nesting in your chimneys can be a real nuisance as well as being the root cause of more serious structural problems. Most modern homes don't have enough chimney space to allow birds to nest. However, older houses and cottages with wider chimneys can be perfect nesting homes for jackdaws and swallows. Having birds nest in your chimney can lead to problematic blockages, infestations, and damp problems and can even lead to chimney fires.
Even if you don't intend to use your fireplace for a real open fire, you should still prevent birds from nesting in the chimney. A nest will completely block your chimney which can cause damp issues. These come in the form of condensation build-up, due to reduced airflow and ventilation.
Don't bring these to a party!
The best way to prevent birds from nesting in your chimney is to completely stop them from gaining access to it. This can be done using our wire balloons. These are low cost and completely stop the risk of birds building nests in your chimney. Wire balloons are easy to fit and a more cost-effective solution than clay chimney cowls and start at just £6.40 each when you purchase 10 or more from our website.
The BS Fixings Galvanised Wire Balloons are sold individually or in packs of 5, depending on size. This type of wire balloon is generally used as a chimney guard but can also be used as a downspout guard and is sometimes referred to as a bird guard, chimney balloon, chimney cowl, or bird cowl.
Stops birds from nesting on and in the chimney
Effective for stopping leaves from clogging up your gutter and blocking your downspout
Made from galvanised steel wire
Can be bent to fit a variety of sizes of guttering/chimneys
Easy to fit into place without expert tools or skill
Suitable for fitting into downspout pipes with an internal diameter of approximately 2.5" to 3", 3" to 4", 4" to 5", 6" to 7.5", 8" to 10", 9" to 11.5", 11" to 13".
No unexpected tenants...
Along with stopping birds from nesting in the chimney, wire balloons also prevent other issues. They stop birds from falling down the chimney and becoming lodged. There are reports of birds falling down chimneys when homeowners are on holiday. They then proceed to make a huge mess in the internal property over 2 weeks of unsupervised mayhem!
We recommend you check your chimney before fitting a guard/wire balloon. Remove any existing evidence of old nests or material that has found its way into the chimney. It's also a good idea to have the chimney swept first.
To prevent the problem of nesting birds in your chimney, buy your chimney guards online here https://bsfixings.uk/galvanised-wire-balloon/ . As always, contact us if you need any advice before buying.