Chimney Pot Strap Bird Spike
Chimney Pot Strap Bird Spike
Preventing seagulls and pigeons from landing on chimney pots. Fits any shape of chimney pot.
Qty




Price (Excl.VAT)




Price (Incl.VAT)

5+

£41.04

£34.20

save

5

%
10+

£38.88

£32.40

save

10

%
Chimney Pot Strap Bird Spikes. 
1 x Chimney Pot Strap  (1070mm strap) made from 304-grade stainless steel 
40 Page Bird Deterrent Guide
25 year 'No Rust' warranty certificate
This product is designed to fit the circumference of all sized chimney pots and flues, from the smallest up to a maximum of 42 inches (1070mm). Fits round or square chimleys and flues. Suitable for pigeons, seagulls and other like-sized birds. This product does not block the flue so the chimney can be swept. 
Installation:
Easy to install. Simply wrap the strap around the top of the pot. It is then secured by hooking the spring into one of the fixing holes. There are many fixing holes along the base of the strap which the spring can be hooked into allowing protection for any sized chimney pot. This product is very durable as it is made from grade 304 stainless steel and comes with a 25 year no-rust warranty. 
No resources currently available
Delivery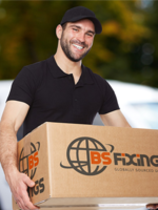 Free delivery
We offer free delivery for all orders over £50 (ex VAT). (UK Mainland Only).
Standard Delivery
Is offered to UK mainland customers. You will receive an email where you can confirm the delivery price if you are happy with it. Different package weights will have different prices.
International Delivery
We deliver all across the globe using a highly trustworthy courier. At the checkout stage, select the country that you would like the goods to be delivered.Then you will receive an email where you can confirm the delivery price if you are happy with it. Different countries will have different lead times and prices.
Delivery Charges
Below is the standard tariff for guidance purposes. Actual costs will be confirmed at point of sale and any variances you will be notified within 24 working hours of receipt of order.
The deliveries below are for mainland UK, for Highlands, Channel and offshore islands an extra charge per consignment will be applied as below, we can also arrange Saturday delivery at extra cost.
Next day delivery for orders under £50 (ex VAT) – £5