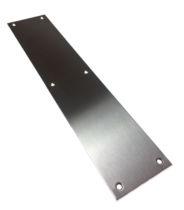 Insurance for the next trip away. Sending off the guarantee activation for the new boiler. Remembering to set the burglar alarm. All of these things, and many more that we do without thinking, are examples of the same thing: protecting your investment. It makes sense to extend this way of thinking right across life and that means looking out for the little things too. It's time to open the doors on your home and/or business…
The doors of a property, both within and without, are an integral part of your interior design scheme, even if you don't really pay them much attention. But we're willing to bet that if we came and took them all away, you'd soon miss them! Sadly, it's one area that is often neglected until the damage from everyday use becomes all too apparent and it's time for replacements.
If, like many people, you've made an investment in decent doors, then you should give them the protection they deserve, with the added benefit that they will last much longer and offer better value for money. And if the doors were cut-price or even came with the property, then that's all the more reason to protect them now while they are still providing good service.
The most common two places for doors to show their wear and tear is around halfway up and towards the bottom; it is not a coincidence that these areas roughly correspond to the location of human hands and feet! Over time, even with careful cleaning, the repeated action of opening the door with hand or foot discolours, ages and adds a tiny little bit more damage to the door. The door soon starts to look tired and old, when really it's only faults are those inflicted on it by us.
Before we start feeling too sorry for what is essentially an inanimate piece of wood, there is of course a reason that we're talking about all this in the first place. As part of our extensive and ever-growing range, BS Fixings provide the solution to any dishevelled doors in the form of Kick and Push Plates, designed to be easily affixed to the relevant areas. They are manufactured from, you guessed it, stainless steel and are guaranteed to give a new lease of life to doors, adding a pleasing aesthetic as well as delivering superior function.
If you get your skates on, there's time to catch one of our current special offers, which is 15% off the already attractive price of our Kick Plates.