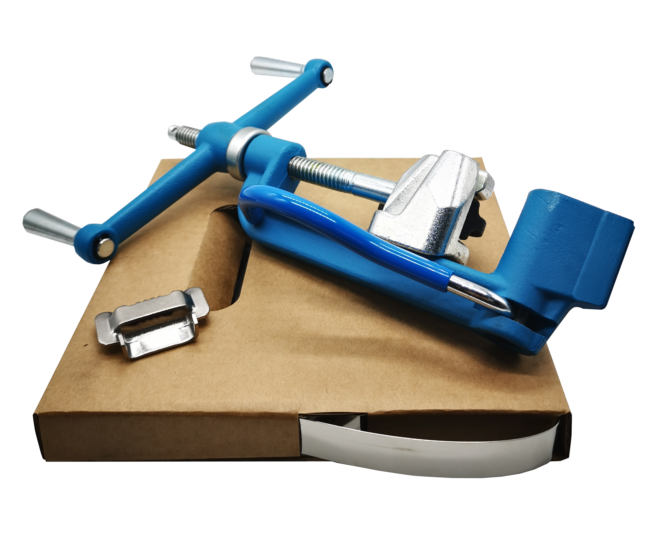 Stainless steel banding has been repeatedly proven to be the most efficient, reliable and cost-effective method of attaching signs to posts and other objects. And now, thanks to BS Fixings and our parent company BS Stainless, it's also one of the safest methods as well.
Experienced engineers and technicians at BS Stainless designed Bandfix, a comprehensive range of stainless steel sign banding and related accessories. The versatile product was an instant success and has since been used all over the world, from major engineering projects in the oil & gas industries to municipal work by contract firms and local councils.
Previously, one of the major drawbacks of using stainless steel banding as a method of sign fixing was the danger presented by the product's sharp edge: this meant that operatives had to wear thick, heavy and cumbersome gloves which impeded productivity. Banding material from the Bandfix collection goes through a deburring process to remove this dangerous sharp edge, meaning that working with the product is safer, easier and quicker than ever before.
Made from Grade 201 stainless steel, Bandfix sign fixing materials are strong, robust and durable. Its natural resistance to corrosion and temperature-induced expansion make it perfect for outdoor use, particularly in the variable climate of the UK.
Using Bandfix stainless steel banding correctly requires the use of additional components such as buckles and a tensioning tool. In response to customer requests, BS Fixings has put together the Sign Banding Starter Kit, which contains these ancillary products along with banding material in a choice of sizes: already this kit has received two reviews of five stars on our website.
Find out more details about Bandfix and the starter kit on the BS Fixings website.