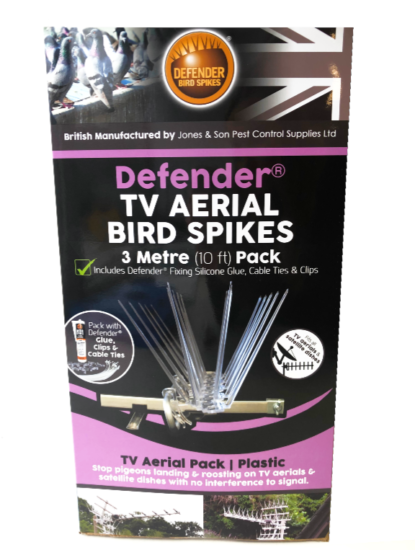 BS Fixings supply an extensive range of bird prevention spikes which are sold by the metre. These spikes are also available as part of a comprehensive package, which also contains all of the necessary ancillary products required for fast, successful installation.
With the UK on lockdown due the ongoing coronavirus outbreak, people are watching more television than ever before. Birds landing on TV aerials and satellite dishes can interfere with the signal so use our TV Aerial Bird Spikes pack and enjoy uninterrupted viewing!
The pack contains:
3 metres of wide bird prevention spikes (supplied as nine strips of 333mm each)
3 different types of fixings: silicone glue, cable ties and specialist clips
15-year warranty certificate
Free 40-page bird deterrent guide
These bird prevention spikes are suitable for deterring pigeons, seagulls and other birds of similar size. They can be fixed along the main central pole as well as along different branches, preventing birds from landing and disrupting television signals.
Each spike is made from robust polycarbonate material, which has been UV-stabilised to protect it from being damaged by the rays of the sun. Virtually invisible from ground level once installed, the discreet spikes do not detract from the aesthetic appeal of any property.
Included in the pack are three different types of fixing, all of which are designed to not interfere with television signals. Cable ties can be used to hold the spikes firmly in position while the specialist clips can be fitted directly to aerial spikes. Silicone adhesive can be used to stick bird prevention spikes directly onto aerials. If required, all three fixings can be used in conjunction.
Our entire range of bird prevention spikes, including comprehensive packs with all required ancillaries included, is currently available with a 10% price discount. Check out the website for more details.