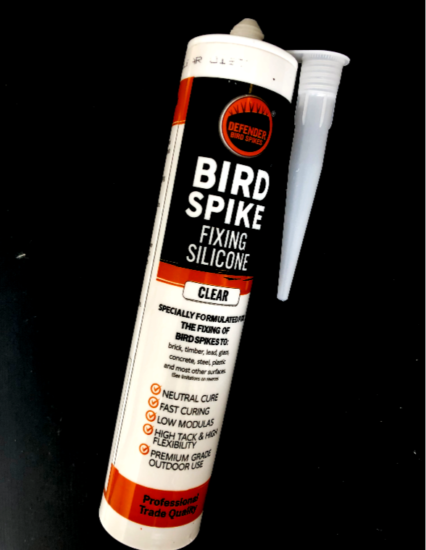 At BS Fixings, we are always extending our product range to bring the fullest possible collection to our customers. We have recently added a selection of bird prevention products to our range; this includes fixing silicone adhesive, which is used to firmly attach bird prevention spikes to almost any surface.
Supplied in an economical, easy-to-use 285ml tube
A specially formulated design
Ideal for use on any clean, dry surface, whether it is wood, glass, steel, brick or concrete
A completely transparent formula that cannot be seen once dried
UV-stabilised, preventing any discolouration from the sun over time
Ideal for use in extreme environments, suited to use in temperatures between -60°C to 180°C
Designed to last around 35 years
Formulated to strongly resist against corrosion
Created using neutral-cure, low modulus silicone which reacts with the polycarbonate base of the bird spikes to create the strongest, most durable bond yet still delivering flexibility after 24 hours of curing
Formulated to have a gel-like consistency with no odour, unlike many other chemical silicone products
Designed for use with a standard caulking gun
Birds, particularly pigeons and seagulls, can cause damage to structures, not to mention the danger they pose to human health. Bird prevention spikes offer a fast, simple and humane solution to the problem. Find more information on the product pages and in our recent news and blog articles.