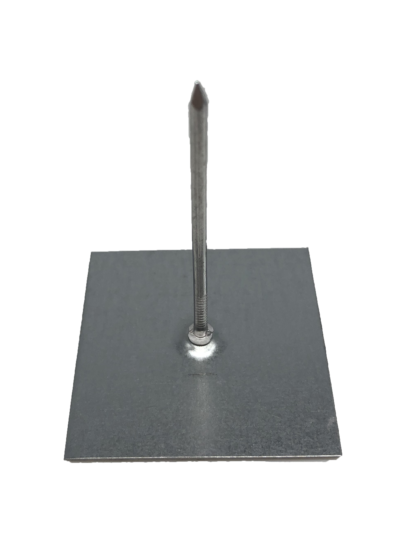 At BS Fixings, we are committed to offering our customers a wide range of products and, only after they have been carefully and extensively tested do we add new products to the collection. The newest item in our portfolio is insulation hangers, used to support insulation material within sheeting and cladding systems.
Insulation hangers, also known as insulation pins, are essential to ensure that insulation remains firmly in place after installation, allowing it to function effectively. We now offer two types of insulation hangers on our website: the pin itself differs only in length between the two types but the real difference is in the bases.
Self-Adhesive Insulation Hangers
Insulation hangers with a self-adhesive base are used in applications where the pin will be attached to metal, such as a smooth metal wall: the high-grade adhesive ensures a firm hold. This variety of insulation hanger is currently available in a comprehensive selection of five sizes ('size' relates the the length of the pin), which are 63mm, 90mm, 110mm, 165mm and 203mm.
Perforated Base Insulation Hangers
For attachment to other surfaces such as plasterboard, brick or stone, we recommend insulation hangers with a perforated base; this base attaches to the surface with the use of a silicone formula. Three standard sizes are now available from stock and these are 62mm, 90mm and 110mm.
Both types of insulation pins are sold in cost-effective boxes of 500 pcs and, for your convenience, are supplied with 500 self-locking retaining washers with our compliments. As with the entire BS Fixings portfolio, absolute professional product quality is guaranteed, along with the most competitive price.
Find out more about insulation hangers on our website and, for a step-by-step installation guide, check out this week's BS Fixings blog article.