BS Fixings' parent company BS Stainless LTD recently exhibited at Wire 2022 in Dusseldorf, Germany to showcase their extensive range of stainless steel products.
As BS Stainless LTD is the UK's largest independent supplier of stainless steel wire to a global market, our support for their presence at the event was of considerable importance. Dusseldorf was an ideal location for the Wire show to us too; as it is near to Erkrath, which is where the Central European arm of our company is located!
BS Stainless LTD supplies a comprehensive collection of stainless-steel wire including forming wire, spring wire, profiled wire, cold heading wire, tying wire, ultra-fine wire, and TIG/MIG welding wires. You can find out more details about these products on the BS Stainless website where they offer these products in large quantities. Alternatively, if you are looking for tying wire in smaller quantities (1kg-20kg), you can click this link to the wire section of our online store!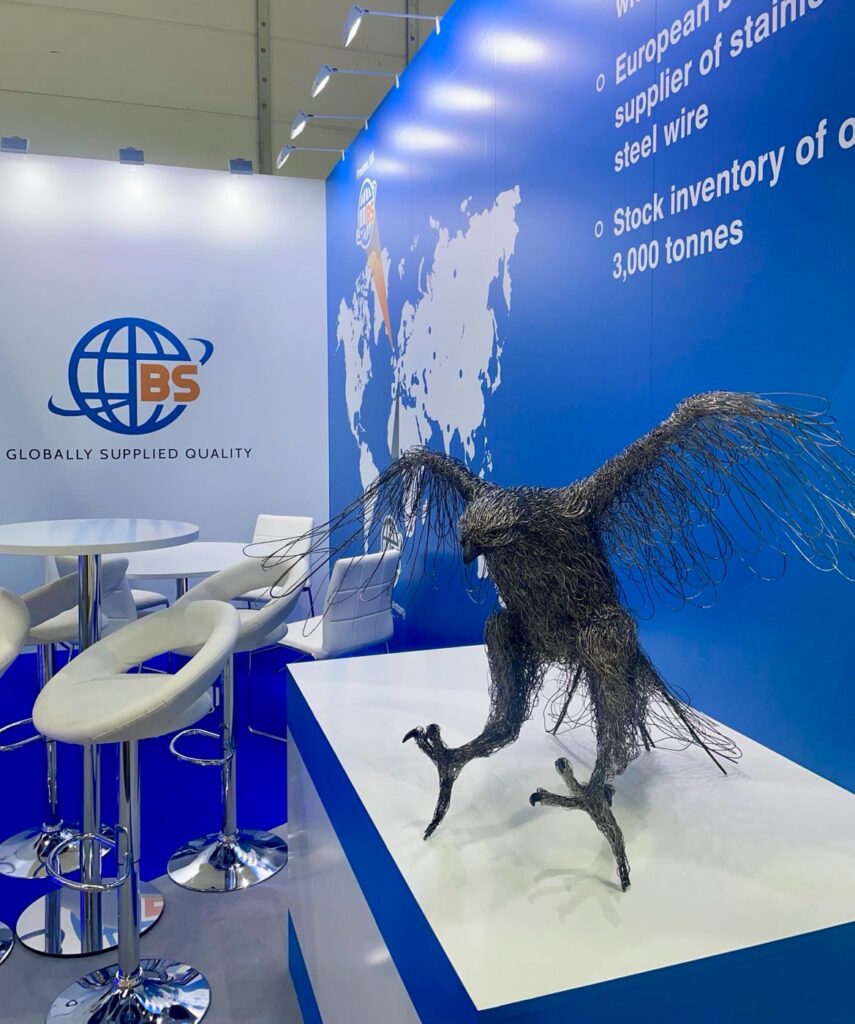 Eddie the Eagle also flew in to join us on the stand! Eddie was created by the incredibly talented BS Fixings customer Candice Bees, and his name was chosen by our customers via multiple social media channels. For further context on Candice, she is an award-winning artist who was originally trained in illustration but took up sculpting animals using wire; and she has competed on the show "Landmark" on Sky Arts! You can see posts about Eddie on our Instagram, Facebook, and LinkedIn profiles!
By attending the Wire 2022 event, it enabled us to strengthen the professional bonds we have with current suppliers, as well as allowing us to meet new customers from around the world; we are really looking forward to future events!
If you are interested in seeing the range of wire we stock, then just click the link; we currently have a 20% off sale this summer 2022! Need any different stainless steel products such as screws, washers, and toggles? Then head over to our website for more information on the products available!