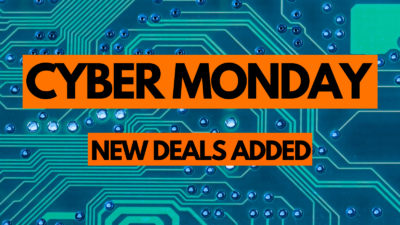 You didn't think we'd stop there with the sales, did you? Here we are, hot on the heels of our Black Friday event, launching our Cyber Monday Spectacular. This mini-sale runs from the 27th- 29th November 2021. We'll be throwing more deals and offers into the mix, making this week one of our biggest sales this year.
What's Cyber Monday? (Get out of the dark ages)
Cyber Monday is a marketing term for e-commerce transactions on the Monday after Thanksgiving in the US. For those of you who don't know when Thanksgiving is, and I assume that's everyone reading this, it's on 25th November this year, meaning Cyber Monday falls on 29th November. It was developed by retailers to encourage people to shop online. The term made its debut on the 28th November 2005, in a shop.org press release entitled "Cyber Monday", helping it to quickly become one of the biggest online shopping days of the year.
Cyber Monday has become the online equivalent to Black Friday. It offers a way for smaller retail websites to compete with larger chains. Each year since its inception, the online event has grown in size. Cyber Monday, on 30th November 2020, was the biggest online shopping day in U.S. history. There was a total of $10.7 billion in online spending. That makes our record-breaking October 2021 look a bit pathetic...
Get your order's in early
All our offers will be online and available to order as normal. We don't anticipate any disruption to our normal delivery services during this Christmas period, but please order a little earlier than normal as the supply chain is likely to be under more pressure this year with reduced delivery capacity and lower stock levels in some categories. If you need a product quickly over the coming weeks, please feel free to contact our sales team for availability and delivery confirmations.
Our buying department is just finalising the list of products that will be in the event and negotiating the best deals with our suppliers so we don't as yet know what deals will be available but we anticipate it will include our primary categories such as Wall Ties, Decorating Products, PPE, Building tools, fixings, and wire products.
Watch this space for updated news on our Cyber Monday event and what product deals will be available.