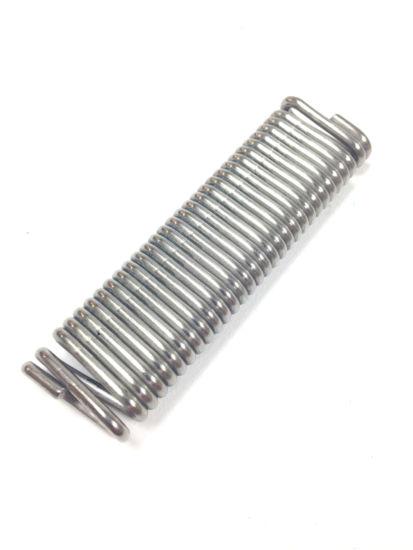 Just like the people who use them, stainless steel springs come in all shapes and sizes. A popular type is the expansion spring; also known as chil or breather springs, they affix securely to the stainless steel banding and allow it freedom to contract or expand as necessary.
The versatile product finds particular use in metal jacketing applications on gas and oil pipes. Stainless steel expansion springs are:
Designed to be used with 19mm stainless steel banding - simply attach to the banding or strapping using our quality stainless steel wing seals for the tightest grip
Connected to banding through the spaced openings at each end
Available in two sizes from stock - standard 100mm and now with extra added option of 120mm to improve and enhance versatility
Available in additional bespoke sizes on request
Designed to replace expand R bands which, as they offer an inferior solution to stainless steel expansion springs, are obsolete and no longer in production
Supplied in either Grade 304 or Grade 316 high-quality stainless steel
Sold singly for your convenience
BS Fixings also supply compression springs, which are better known as mighty or mity springs: these are often used for vessels, tanks and pipework of a large diameter. Check out the collection for more details.
Stainless steel compression springs form part of a larger collection of stainless steel banding materials and accessories available from BS Fixings. This includes the Bandfix® family of stainless steel banding products, which is designed, manufactured and supplied exclusively by us. For all of your strapping, banding and sign fixing solutions, please enjoy browsing our range, which contains everything you require to achieve professional, lasting results.