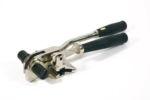 Feeling tense? Not as tense as our stainless steel banding! When you use products from this selection, you need the Tensioner Banding Tool, which gives you all the power and flexibility required to achieve the most professional results. What gives the tensioner tool its power? Discover it here.
You should also check out our Bandfix products, which complement the tensioner tool to form a system that is as versatile as it is reliable. Stainless steel banding is incredibly versatile and is used everywhere from oil rigs to universities, from big factories to back gardens. Whether you are attaching cladding to machinery or a jar to a garage wall to hold your spare screws, stainless steel banding can help and the tensioner tool is the essential companion.
Check out all the specs, plus image, of the tensioner tool.