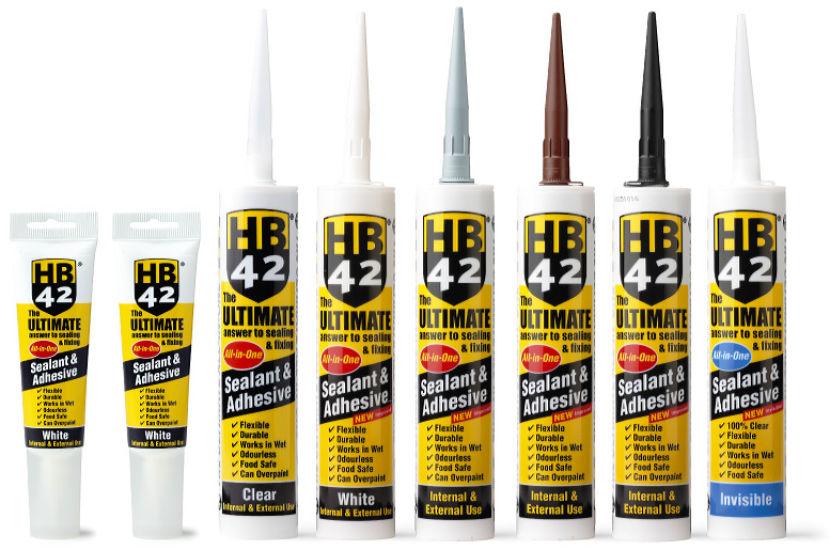 HB42, a company with 'approved' member status of both the BMF (Builders Merchants Federation) and the NMBS (National Merchant Buying Society), is a leading manufacturer of sealants and adhesives. BS Fixings is proud to supply an extensive selection of HB42 products, which includes the company's signature product: Ultimate Sealant & Adhesive.
HB42 Ultimate Sealant & Adhesive is an all-in-one product, designed to suit a vast array of sealing, filling and sticking applications. The innovative formula is based on the latest generation of advanced hybrid polymer technology, guaranteed to consistently deliver outstanding adhesion and lasting strength.
Whether used indoors or out, in wet conditions or dry, HB42 Ultimate Sealant & Adhesive boasts an initial bond strength double that of comparable grab adhesives. Flexible, durable and non-shrinking once fully cured, this product will bond to almost any substrate, including wood, stainless steel, porcelain, uPVC, aluminium, polystyrene, lead, glass and coated metal.
Despite its unmatched strength, HB42 Ultimate Sealant & Adhesive is free of solvents and is completely odourless. Designated food-safe, GEV approved and with an EC1 Plus rating, the formula is recognised for having extremely low VOC emissions. It can be used with equal success for a wide range of applications, including sealing and weather-proofing joints and fixing skirting boards, door architraves and a variety of insulation materials.
You can currently save 15% on each 290ml tube of HB42 Ultimate Sealant & Adhesive when you purchase from BS Fixings. Find out more details on the product page.