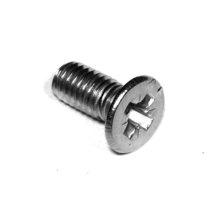 One of the most common stainless steel fastenings is the humble screw, and so of course you can be sure that our collection includes plenty of varieties, designed to allow you to find the product to exactly suit the intended application. All of our screws are available in a selection of sizes and are sold in boxes of 50 or 100. The more boxes you buy, the less expensive they are! As always, you are guaranteed the most competitive price from BS Fixings.
The types of stainless steel screws available from us include:
Primarily used to securely fasten two objects together, machine screws are manufactured without a point on the head, meaning they require pilot holes for installation. The pozidriv screws attach to a matching nut and are thus sometimes known as machine bolts.
Fabricated from grade A2 stainless steel, these tough screws feature a head designed to be operated with a socket set. Sold in boxes of 50, socket cap screws are durable and efficient.
These can be identified by their smooth and softly-rounded heads, which offer a particularly safe solution as they sit so closely with the surface they are screwed into. Socket button screws also provide aesthetic value
When fully screwed in, the heads of these screws fit flush to the surface, for the safest, most practical solution in an array of situations.
With a sharp point, these screws do not require pre-drilled holes and have a particularly wide scope of application. Both slotted and pozi pan drive types are available and, like all of our other stainless steel screws, the self-tapping variety are supplied under our ISO 9001 accreditation and to DIN standards. Sizes other than standard can be supplied along with a range of other options such as different metal grades, zinc plating, hex-head drive and bulk packs of 1,000 or 5,000 screws.
All of our standard screws are available for next-day delivery from stock and we can quickly fulfil bespoke orders. If you find that you need help, guidance or support with choosing exactly the right screw for the job you have in mind, simply get in touch with our technical team now for clear, competent advice and information. Start browsing our collection of stainless steel screws.