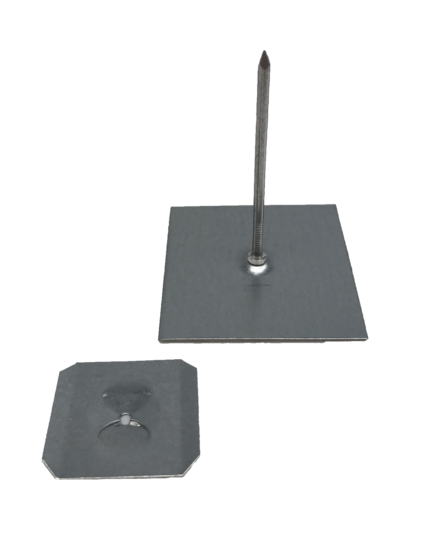 Insulation hangers (also known as insulation pins), are used to support insulation material within cladding and sheeting systems. A comprehensive selection of these crucial components has recently been added to our product portfolio and the entire range is currently available with an introductory 10% price discount.
To function effectively, insulation material must be held securely in place and this is best achieved with the use of insulation pins. We now supply two types of insulation hangers to suit different applications: both types are made using galvanised steel and aluminium and we can also supply stainless steel versions on request.
Self-Adhesive Insulation Hangers
This type of insulation pins are primarily used for attaching to metal, such as smooth metal walls. Each pin base incorporates a high-grade adhesive to ensure the firmest of holds after installation.
Perforated Base Insulation Hangers
When intended for use on other surfaces such as brick, stone or plasterboard, an insulation hanger with a perforated base is recommended. Using a silicone formula, the base can be firmly attached to such surfaces.
Both of these types of insulation hanger are supplied by BS Fixings in economical boxes of 500 and a range of pin sizes is available. In addition, each box comes complete with 500 self-locking retaining washers, giving you everything you need to carry out a professional job. As with all of the products we supply, you're guaranteed a competitive price which is made even more cost-effective with our current 10% price discount.
Find out more about this product on our website. Installing insulation hangers is easy: check out this week's blog article for our definitive guide.