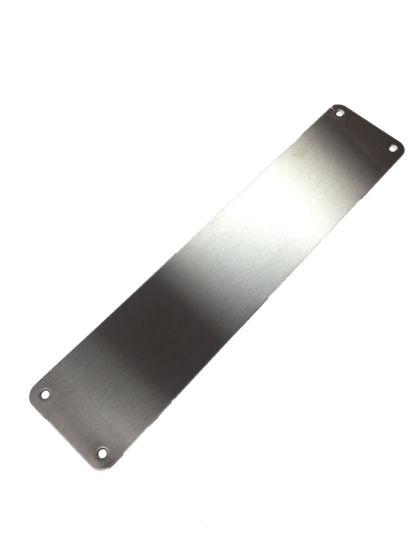 Doors, just like the people that walk through them, come in many different sizes and so that means getting the right door furniture to suit them. Our popular stainless steel kick plates are soon to have been made available in a range of extra sizes so you can ensure the perfect fit every time with BS Fixings.
Kick plates, along with their natural companions push plates, give immediate protection once they have been installed. Doors are subject to some pretty heavy wear and tear and, as a valuable part of the internal fixtures of a property, should always be protected. Doors are given a longer life and are easier to maintain.
BS Fixings are proud to support British Manufacturing and our kick plates are made right here in the UK. They have been expertly manufactured from grade 430 stainless steel which, as well as being protective has an attractive aesthetic, giving any door a smart new look. Once it is properly installed, the plate barely protrudes from the door due to the plate thickness of just 1.2mm, giving a smooth, sleek visual finish.
Attaching kick plates is easy; all you need to do it use the screws provided; the screws are, of course, made from stainless steel! Protection is immediate and the plates will last and last, requiring only occasional ordinary cleaning and offering powerful resistance to corrosion.
Our standard size of kick plates is 838mm x 152mm and this is suitable for most ordinary doors. We have always been able to deliver other sizes on request but we are now pleased to announce that we will be extending our range due to popular demand and a selection of new sizes will be available from stock soon!
The new sizes of stainless steel kick plates soon to be available from BS Fixings are:
800 x 150mm, 700 x 150mm, 760 x 150mm, 900 x 150mm and 800 x 200mm. We are always adding to our range in order to better provide to our customers' needs so make sure you subscribe to our newsletter for the latest product updates. Find out all the details about our kick plates and start protecting your doors today.