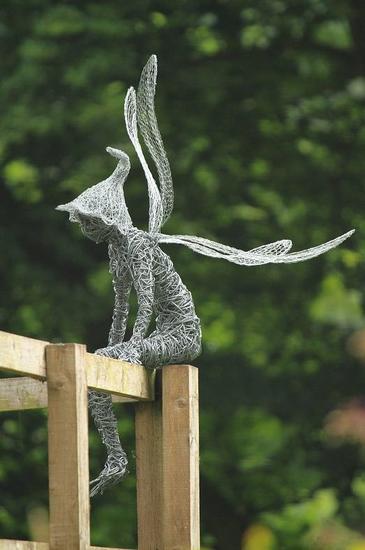 Stainless steel. What images do these words bring to mind? For almost all of us, depending on our jobs and lifestyles, the mental images are going to be of highly-functional products, machines and components — this is true whether you are thinking of anything from a fork to a forklift truck or a juicer to a jumbo jet. For a small few, however, the thought of stainless steel is one associated with purely aesthetic beauty, with admiration and respect for a highly-versatile material that, carefully and skillfully worked, can be surprisingly delicate.
Candice Bees is one of the most exciting emerging artists working in the UK today and has moved away from a traditional artistic background in illustration into modern sculpture, using steel and aluminium wire to portray all kinds of different animals. She grew up in the southwest of the country and was always interested in studying animals. This has allowed her to develop a keen understanding of their various anatomies which she then replicates using the wire. Scooping prestigious awards with her eerily-lifelike works, Candice looks set to go on to bigger and better things. What next? Camel? Elephant? WHALE?!
Another artist using steel wire for sculpting purposes is Robin Wight who, while carrying out the simple task of mending a fence one day, had a sudden thought that he could instead be using the repairing wire to create art. This thought was the beginning of a brand new business for Robin, whose sculputres are now in high demand all over the world, keeping him busy in his studio most of the time.
Robin creates amazing steel sculptures of fairies, each of which is completely unique and hand-produced by Robin. You can also purchase sculpted, standalone dandelions formed from the wire, each of which can be up to 5 metres tall. That's if you can get on his waiting list!
What connects these two artists, apart from their chosen artistic media of steel wire, is BS Fixings. As the biggest supplier of steel wire in the UK and so it was to BS Fixings that both of these artists went when seeking material. Originally, BS Fixings brought in wire to be used as a fixing/fastener however its uses have developed over time to be used in applications such as sculpting. It has also found many different uses in the garden environment; one bright spark decided to string it over his pond, the residents of which have since been untroubled by hungry herons! BS Fixings supply wire of many different types and materials in any quantity required.